Last updated on October 27th, 2011 at 09:59 pm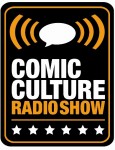 This week Comic Culture hosts Chris Owen and Walter Durajlija are joined by professional cartoonist and artist Lief Peng. Join the three as they discuss a whole bunch of stuff including the Watchmen on Kindle, Chevrolet at the NYCC, the Comics Code Authority, Marvel's Point One and lots more so kick back, relax and enjoy  Comic Culture, the radio show full of possibilities.
Comic Culture is produced by Anthony Falcone and is engineered by James McIntosh.
Enjoy Comic Culture October 5th 2011 Edition