A complete and engrossing collection, Joe Kubert's Tarzan Of The Apes Artist's Edition shines.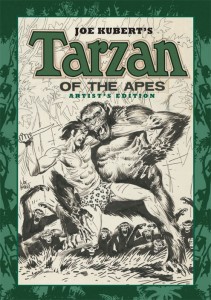 Celebrate the 100th anniversary of Edgar Rice Burroughs' most enduring creation, Tarzan of the Apes!
Joe Kubert was one of the most acclaimed comic artists ever. His career in comics lasted nearly 70 years. Throughout all those years his hallmarks have been a mastery of sequential storytelling and exceptionally fine drawing. Highlights of his career include work on Hawkman, Enemy Ace, Tor, Sgt. Rock, and the Viking Prince. But of all these exceptional artistic achievements one stands out: his remarkable adaption of ERB's Tarzan.
ISBN: 978-1-613774496
12″ x 17″, 152 pages
$100 USD Suggested
Continue to the Artist's Edition Index for the complete review.