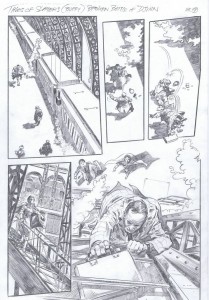 It is a sad day in the world of the hobby we love. Gene Colan passed away in his 84th year on June 23rd around 11:00 pm from on going health issues.
I never met Gene Colan but I grew up with him every step of the way. Gene was unique among the Silver Age legends. When everyone came into the field at Marvel Comics in the 60's when the Marvel Age was just taking off, John Romita. John Buscema. Everyone worked over Jack Kirby's pencils to learn the dynamic pacing and explosive layouts from the "King" himself. Everyone that is except Gene Colan.
Gene had been working in the industry since the 40's. Drawing everything from Western to Romance to Horror. Nobody looked remotely like Gene Colan. He had a sublety and nuance that spoke volumes when there were no words on the page.His range of emotion and mastery of light and shadow are second to none.
His first work that brought him notoriety at Marvel was in Tales To Astonish under the pseudonym Adam Austin bringing the adventures of the Sub-Mariner back from the Golden Age into the Marvel Age. Gene always said he didn't enjoy the character and doing the under water scenes , but being the professional he was you could never tell. Even when matched with inker Vince Colletta who really did not mesh well with Colan's fluid pencils. Gene to my knowledge really introduced the full page splash to the industry as well.
Always the family man and always struggling financially he came to Marvel under the name Adam Austin for fear of being fired from DC Comics where he was doing  romance titles with John Romita Sr. He soon took over Iron Man in Tales of Suspense inked more amiably by Jack Abel. This is where his style in super heroe books really started to develop. Next it was on to Daredevil where he really made his mark and which was a character he really loved. Nobody did Captain America the way Gene did either. Howard the Duck came alive under his hand!
In the 70's he started Tomb of Dracula and went for the entire 70 issue run as well as numerous B&W magazine stories. In the 90's Gene moved over to DC and had a great run on Batman, Wonder Women, Jemm Son of Saturn, Night Force ,and one of my favorites Nathaniel Dusk with Don McGregor and many more. Stewart the Rat for Eclipse. On and On it goes!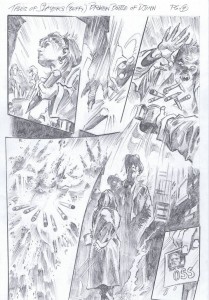 In the 2000's he has kept active with Buffy Tales of the Slayers. "A Broken Bottle of Djinn" is a landmark piece of artistic story telling. Most of his latter work was all reproduced from his pencils!
His last published work was Captain America #601,for which he won the Eisner Award. Genes first cover was on Captain America in the 40's so it is only fitting he end there.
I have had the good fortune of owning some original artwork from Gene including the above mentioned Buffy story, and have attached a couple of pages to accompany this article.
I had recently also began conversing with Genes agent Cliff Meth and was looking forward to meeting Cliff and Gene in October at New York Comic Con. That alas will now not happen,but knowing that Gene knew how much I appreciate and enjoy the original artwork as well as a very brief note between us I will always cherish.
If you don't know who Gene Colan is or aren't familiar with his work,check The Invincible Gene Colan, Secrets in the Shadows and Painting with Pencil. All available at fine comic shops everywhere. If it's not in stock it soon will be. In this comic era where you can hardly tell one artist from another,do yourself a favor and check out Gene Colan's work. Fortunately we will always have that to remember him by.
Dennis De Pues