Welcome back to Absolute-ly, a feature that focuses on what comic should receive the "absolute" treatment: any story from any publisher.  A call to arms of hardcover comic book fans.
Mike Mignola was in the second phase of his career; after starting at Marvel he packed up and moved to DC.  While there he did a number of wonderful covers, fill in issues for mainstream titles and completed some of my favourite material, namely Gotham By Gaslight, Ironwolf: Fires Of The Revolution and Cosmic Odyssey.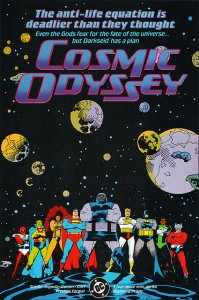 Of these Cosmic Odyssey deserves the Absolute treatment: it's a star spanning tale that covers melds classic mainstream DC characters with Kirby's Fourth World, told by two Marvel creators.
We know Jim Starlin for his epic Marvel space operas, including the death of Captain Marvel and the Infinity series.  Yet here he is at DC in 1988 creating just such a tale with the languishing Fourth World characters and Justice League members.  It's a classic read even now and readily available in trade paperback.
Mignola's style was still forming and had some soft edges along with the strong lines he's known for today; you see it mostly in the hair and faces of the characters.  Along with Steve Oliff's bold colours we're presented with stunning visuals.
While the original series was four prestige format issues and the trade does a great job collecting the material the pages pale in comparison to the colour guides.  I was lucky enough to stumble upon Oliff's eBay auctions in the late 1990s and snapped up a bunch of colour guides.  If DC still has these scanned somewhere we could get an incredible Absolute Cosmic Odyssey.