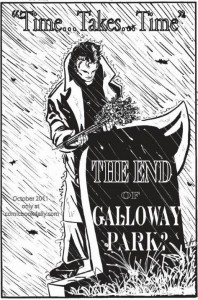 Interview Dennis DePues – Creator Galloway Park Web Comic
CBD – How did the Galloway Park concept come to you?
DD –I didn't have any thought of these characters until you asked me if I would like to do an online comic. I had been away by and large from comics from about 1992. I had sold my rather voluminous collection that I had started at the age of 10 when I got in some financial trouble and vowed one day to replace it. Once you offered me the opportunity, after seeing a story I had done with Marvel characters, it really just popped into my head.  Lindsay Park and James Galloway are real people and I wanted to do a story about real people. No long underwear and capes, which would really be a challenge artistically.  I had certain views on the current social and political landscape that I wanted to explore and that's how it started. After that it sort of started to write itself.
CBD – What are some of your storytelling influences? Writing styles? Writers?
DD – I'm 54 ,so I'm a child of the Silver Age. My first issue purchase was Spidey  #62 and FF #76, which of course were written by Stan Lee, and Roy Thomas quickly followed , as writers. I was primarily a Marvel Fan but also loved Edgar Rice Burroughs, especially Tarzan and some of the classics by Jules Verne.
CBD – Artistically who are your biggest influences?
DD – My influences were Jack Kirby, John Buscema, John Romita Sr and Gene Colan for artists, I really liked Bernie Wrightson's Swamp Thing, Neal Adams' Batman and Green Lantern in the early Bronze Age.
CBD – When you were a kid did you read a lot of comics? Did you want to be a comic book creator?
DD – Yes-I got bit by the bug bigtime! I bought my first Spidey 1 for $40 by sending Cdn. Cash through the mail to Robert Bell. He was the guy who, to my knowledge invented or was the first to market comic bags, so I got into collecting right off the bat.  I went to Sheridan College in Oakville, On. to meet Berni Wrightson in the mid 70's just after it had been announced that he had left Swamp Thing. He asked me why I wanted to be a comic book artist. In my most enthusiastic capitalist way I said "because I want to make lots of money". To which he replied "Then don't do this unless you are as fast as Kirby"!! I decided to choose another career at that point! I did however continue as a hobby and worked mostly on monochromatic paintings.
CBD – You're now into your 4th story on CBD, are there any plans for a 5th?
DD – Yes – I am just in the planning stages of a 100 page graphic novel.
CBD – Will this new project be a continuation of GP 4?
DD – No –I almost walked away from the characters but it's a great name with a certain imagery and it rolls off the tongue nice, so I have decided to continue with the characters but it will not be a continuation of the current storyline. All I am willing to say in regards to the storyline is it will take place in a different timeline with no connection to what has gone before, except the main characters will headline the story. I am excited about the general storyline I have come up with and the preliminary sketches for new characters.
CBD – So when can we expect GP 100 PG Spectacular?
DD -I figure it will take me a year to finish. I obviously have to make a living, so this is all done in my spare time. I do hope to either self publish or pitch the story itself to another publisher, but in the end, this is the most fun I have ever had (…legally) and I enjoy the opportunity to continue doing it. I actually met Bernie Wrightson again a couple years ago at the Baltimore Comic Con and we had a good laugh at the story related above. He gave me a lot of encouragement.
CBD – We're looking forward to the conclusion of GP 4 Dennis and keep us up to date on the progress of the 100 page project. Thanks for taking a time out to chat with us.
Follow Galloway Park 4 every Sunday exclusively at comicbookdaily.com.