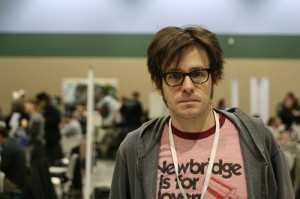 For those of you out there that are fans of uber awesome writer Matt Fraction (Thor: Ages of Thunder, Casanova, Iron Fist, etc) now have the chance to ask him questions. He's taking over Warren Ellis' forum to give you guys the chance to grill him on all the ins and outs of his work.
As a huge fan of Fraction's work – specifically Rex Mantooth and Casanova I can think of no better person to toss questions at. He's an incredibly witty and intelligent guy who also manages to create some of the most witty and intelligent comics being published today.
Here's Warren Ellis with an explanation and some guide lines:
Matt Fraction is the writer of INVINCIBLE IRON MAN, UNCANNY X-MEN, CASANOVA, and a bunch of other stuff. In his previous life as co-founder of motion graphics studio MK12, he's made music videos, short films and, yes, a bunch of other stuff. He is husband to writer Kelly Sue DeConnick and progenitor of and warden to tiny human whirlwind Henry Leo Fraction.

It's been a year or so since Matt last did a residency here, and he has stupidly kindly volunteered to come back for a week to answer any and all questions.

So fire away, and Matt will get to them as best he can.

Note: this thread is being watched, and obvious nutters will be disappeared. Disappearing you from Whitechapel is a one-button operation that takes a lot less effort than you expend in making new accounts and being a nutter in public. Plus, it amuses us.

So, with that out of the way: please speak your brains to my friend Matt and make him regret volunteering for this. If you can keep him engaged, I think he may have some news for you by the end of the week.

— W
So there you have it. We'll be following this forum for the rest of the week so expect us to post some of the best qs and as.. hopefully some of our loyal readers will help out with some intelligent queries.
You can check out all the fun at the Whitechapel Forum: The Matt Fraction Interrogation.