The 2013 Joe Shuster Awards were held Saturday August 24th in Toronto; the full list of award winners can be found here. Anthony Falcone and myself were responsible for the Harry Kremer Award for Outstanding Canadian Comic Book Retailer, who this year was Heroes of London Ontario and its owner Brahm Wiseman.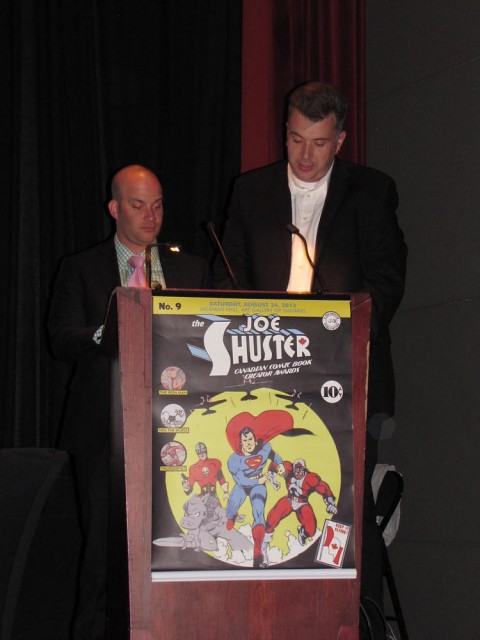 Nominated retailers were asked for a biography and a video or photos of their store. Here is Brahm's bio and video for Heroes.
Heroes has been serving London since 1991.  I bought Heroes from the Robinson family in 2000.  A kid fresh out of Western University where I studied visual arts and English (the closest I could come to studying comics), I was eager to promote my favorite medium, comics, to London.  In 2008, I bought and moved the store to a monstrous, theatre-like building across the street to our old one in beautiful downtown London.  The space gave the store everything it needed, room to grow and display our goods properly.  We wanted to create a real wow-factor upon entering the store; a sense of wonder and overwhelming at shear amount of variety of cool stuff.
I was a comic book fanatic since I was a kid, weaned on a steady diet of Spider-man and Mad Magazine.  Spending a good portion of my high school years in Brussels, Belgium, home of the bande dessinee, I discovered a whole other world of comics.  I spent the rest of my high school and university years reading independent comics and discovering the great masters of comics from times past.  I definitely knew that I wanted Heroes to represent the best of all comics; not to simply act as a superhero convenience store.  We try our best to stock a great variety of comics: mainstream, independent, European, Manga, classic, all-ages, and whatever else is good.   We have the largest selection of trade paperbacks and graphic novels in the city, if not the province or country.  Thousands of our TPs are half price or less, many representing entry-level introductions to some of the greatest comics ever produce.  We also actively buy costumers collections bringing in a huge variety of collectable comics.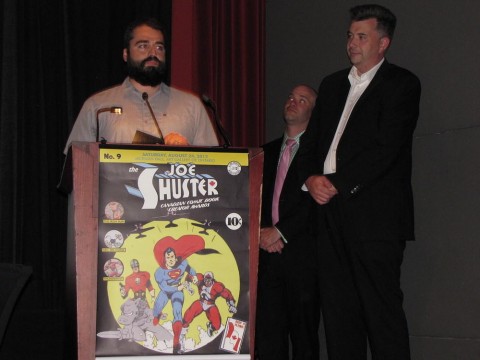 Heroes has some great partners to work with in London.  Believe it or not, London's Free Comic Book Day is actually thrown in partnership with 4 other comic stores and the Downtown London Public Library.  On this day, all stores in town join forces to promote comics by creating a passport to encourage customers to travel the city and visit all stores to get free comics and win great prizes.  The results of this and other promotions have brought an overwhelming 1500+ comic fans to the downtown core and our store on FCBD for the past several years.  The Downtown Library has been a tremendous partner.  Heroes and the Library have created an annual event the last 3 years running called Comic Jam.  During March break, we hold a one day event at the library featuring guests, workshops, activities and drawing exercise, and giveaway comics. The idea behind the event is to celebrate comics in a non-retail environment, promote the idea of literacy through comics and introduce new readers to comics.  On FCBD, we also supply the library with comics to give away, and they hold a well-attended costume contest with us, as they also did this Halloween for the newly developed Halloween Comicfest.  Heroes is committed to London and its downtown and is a board member on the London Downtown Business Association and Mainstreet London.   We are also committed to getting comic books in the classroom. Heroes has worked with the Thames Valley School Board, Western University and Fanshawe College supplying them with comics and giving tips when selecting comics and on how to use them.  In the Past, I have also done PD Day seminars for the public school board on how to use comics in the classroom as well as taught classes on comics at a variety on schools and libraries.
As a general policy, Heroes does not set up at comic conventions or sell on ebay.  Though we attend and support comic conventions as fans, as they can be great industry events, we would rather reward sell all of our stock through our store.  We want to give our customers a reason to come to our store by rewarding them with the best selection of comics and our best prices.   We want to support those who support us, rather than bringing our best comics and prices to other cities or the Internet.  Heroes has worked very hard to create a comfortable environment for all types of comic book readers and an inviting environment for new customers who may not be familiar with the wonderful world of comics.  We have created a Mecca for comic books and all things pop culture; a hopping centre for a culture we have a love and passion for. 
Congratulations to Brahm Wiseman and all the Heroes staff for their well deserved recognition. Audio of the presentation is available: this awards begins at 10:42.
Audio and photos courtesy of Jamie Coville.