Warner's faithful adaptation of Frank Miller's magnum opus concludes with Batman's final confrontations.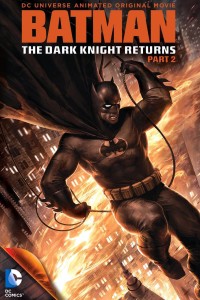 The Dark Knight and the brave, young Carrie Kelly at his side as Robin have finally reclaimed Gotham City and allowed a ray of hope to penetrate the reign of terror that The Mutants cast upon their city. With Batman back in the spotlight, the extended media coverage has awoken a far worse evil at Arkham Asylum – The Joker! Destined to be Batman's mortal enemy, The Joker has a diabolical scheme that may pull Batman down to the darkest levels of insanity. Meanwhile, on the horizon, a global catastrophe races toward Gotham, and with it comes a familiar face, the Man of Steel, though this time he has Batman in his sights. A returning voice cast, headed by Peter Weller, Ariel Winter and David Selby, delivers the epic finale of this DC Comics legend. Watch as the aging Dark Knight wages a tireless war against crime while proving that courage and will are indeed timeless.
Actors: Peter Weller, Michael Emerson, David Selby, Michael McKean, Ariel Winter
Director: Jay Oliva
Writer: Bob Goodman
Producers: Alan Burnett, Bruce Timm, Sam Register
Format: Animated, Color, Full Screen, NTSC, Widescreen
Language: English
Aspect Ratio: 1.78:1
Rated: PG-13 (Parental Guidance Suggested)
Studio: Warner Home Video
DVD Release Date: January 29th, 2013

Run Time: 76 minutes
Order online: Amazon
After a very successful Part 1 we get the full Joker and Superman portions of the story, providing a very clean setup and division of Miller's material into equal portions. Again it's very faithful to the original, with some slight changes to adapt and make sense of the two parts. I did miss seeing Dr. Ruth on David Letterman with Joker, but they did have Conan O'Brien voice the talk show host. And I'm not sure they needed the brutal killing of Joker's doctor. On that note I expected the Joker to sound more…insane or homicidal, especially once he shows his true colours.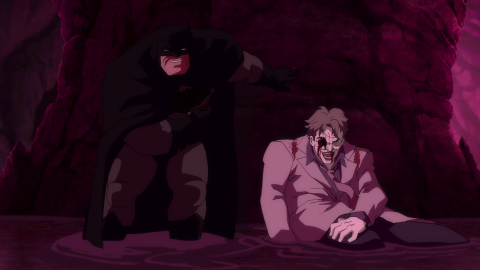 Batman's fight scene on the roof of the television studio is very drawn out, with what feels like an eternity for him to make his way between policemen. How could they not shoot anyone moving this slow. I understand Batman fills the roof with smoke and you can't really show a fight scene with silhouettes in smoke and make it terribly exciting. He's surrounded by police, not moving, and someone start shooting but can't hit him. A weak scene in an otherwise excellent film. The scene in the comic is less than two pages of panels, but gets just as much across.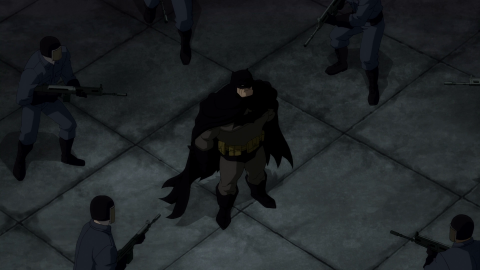 Superman's involvement courtesy of Ronald Regan, still in the White House and unexplained, is great. I never made the Pratt homage reference of the U.S. fighting over Corto Maltese. Miller's depiction of Superman as the government puppet comes across nicely, as does his boy scout personality. Even though you're rooting for Batman as he pummels Superman about you can't help but like him; wonderfully translated from print to film.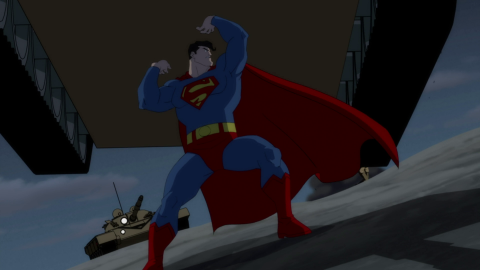 With this second part Warner has created it's longest running DC animation feature at approximately 150 minutes, and all of it well worth watching. While it would have been preferable, and cheaper, to get it as one movie it sets the stage for future adaptations in the same vein.
As a complete film this is one of the best comic adaptations available and is wholly entertaining for all Batman fans. Let's hope when they package it as one complete film the cover art is from the comic or a frame from the movie, not a completely unrelated Batman image.