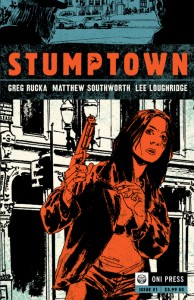 Stumptown #1
Written by Greg Rucka
Illustrated by Matthew Southworth
Coloured Lee Loughridge
I fall in love with losers.
Maybe it's the curse of being a fan of crime fiction. You don't often find winners in crime stories, they might start off the book freshed-pressed-like-a-million-bucks, but they won't stay that way. Dex is a loser, but god damned if I wasn't head over heels for her by the time she's shot by page 4. I remember when this series was initially promoted – way back in '07 – and I first saw this ad: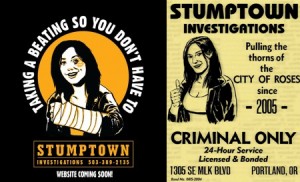 I think I knew that she was going to be trouble, and I think I knew I'd love every second I'd get to spend with her.
Greg Rucka's Stumptown – a return to the straight crime genre that he initially cut his teeth doing – owes a lot more to loser private eyes like Jim Rockford than it does to Brubaker's Criminal series. Which is good, because as much as I'm enjoying the crime renaissance that's going on in the comic book industry right now, I didn't just want to read Rucka's take on criminal. What Rucka does best is flesh out real characters and the semi-procedural  world that they live in and how it effects them.
So what's the jist? Stumptown is a pulpy PI story that follows down-on-her-luck gambler/private investigator Dex as she tries to balance gambling addictions and in turn  a  17 thousand debt to the Confederated Tribes of the Wind Coast as well as her fledgling PI service and a brother with downs syndrom.
Some things work themselves out though, all Dex has to get out of that debt is locate  Sue-Lynne's (the head of the CTWC)  granddaughter.
Of course, that's not really the end of it, and in typical detective story fashion things are not as simple as they seem, and Dex finds herself not only threatened by a quasi-legitimate mob boss but stuff into the trunk of a car by two thugs and then shot twice in the chest.
I'd really be remiss if I neglected to talk about the art. Matt Southworth is an artist who's ability to convey mood and atmosphere while not sacrificing storytelling is a joy to behold. It'd be easy to toss out Michael Lark or Sean Philips comparisons as his style is obviously similar to both, but he's definitely a artist in his own right. This is my first exposure to his work, but I'm going to be honest when I say that I'll be keeping a eye for whatever he gets up to.
All in all, I can't help to express just how excited I am for the rest of this series, I'm looking forward to anything this team tosses at me, and from the looks of things, I can count on getting my heart broken.
You can check out a preview of this title here.
Pete DeCourcy is a regular contributor to ComicBookDaily.com, he's also a large fan of crime in general. You can check out his blog The Simple Art of Crime.