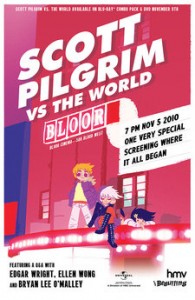 Scott Pilgrim vs. The World may not have been a box-office success but that didn't stop it from getting the send-off this fan-loved film deserved.  Before arriving on DVD and Blu-ray this Tuesday November 9th, Scott Pilgrim headed back to the theatre for a, dare I say it, EPIC one-night event. On Friday November 9th fans of Edgar Wright's adaptation of Bryan Lee O'Malley's graphic novel series were treated to a free screening at Toronto's Bloor Cinema. And what better place is there for a screening?  Fans dressed as Ramona and Roxy lined Bloor Street, surrounded by the sites and locations found in the film itself. People munched on Pizza Pizza and expanded their hipster record collections at Sonic Boom, while their friends held their places in line, sipping Second Cup coffee to ward off the cold, for hours.  Really, I do mean hours.
I arrived at Bloor and Bathurst, hoping to spend some time browsing through BMV and Sonic Boom before the 7:00 pm show.  As I rounded the corner from the subway station, I realized that was not going to happen.  At 3:30 pm my brother and I joined a line of nearly 100 people.  By 4:30 pm it stretched onto Bathurst. A second line formed for those who had received advance tickets, and after 2 hours in line I contemplated whether or not I could have used www.comicbookdaily.com to get me inside faster. Never underestimate the power of free.
Even in the cold, people were in good spirits, flipping through the graphic novels, chatting about their favourite characters, and putting the finishing touches on their costumes. Although I felt old, surrounded by teenagers who'd skipped last period to get a good place in line, it was nice to see so many people excited about comics. At 6:45 pm we made our way into the theatre and found seats in the balcony.  They packed us in like sardines.  Every seat was filled. Soon it was time for trivia and costumed attendees were given prizes for their dedication.  After a few minutes of stalling, Canadian actor/writer/director Don McKellar took the stage to introduce the night's special guests: Writer, Bryan Lee O'Malley; Director, Edgar Wright; and Actress, Ellen Wong.
Edgar Wright welcomed us and thanked us for "standing in the #&%!ing cold".  With the humour expected from the director of Shaun of the Dead and Hot Fuzz, he explained that tonight we would be the first to see the making of feature, and the three guests would be back after the screening for a Question and Answer period.  Before the lights dimmed he treated us with a reading of Scott Pilgrim's IMDB's Keywords including Punched in the Face (Yay!), American (Boo!), and Man Punching a Woman (Laughter).  Like his other screenings, Edgar Wright picked one keyword as an audience participation cue. Every time Canadian Currency was shown on-screen, we were urged to clap, not that we needed much persuasion. To set the mood, the movie opened with two retro movie trailers; The Last Starfighter, and The Wizard.
I've been to fan screenings before, but this one surpassed them all.  People cheered and screamed, through the entirety of the film.  There was even more audience participation than at last week's Rocky Horror Halloween Screening.  Every single time Wallace Wells (Kieran Culkin) appeared on-screen the theater went nuts.  I can picture Scott Pilgrim becoming a cult classic with midnight screenings and toast throwing. Coin throwing? 1UP throwing?
Before showing the "Making Of", Wright and company introduced the Toronto contingent of the cast.  With parts ranging from small to minuscule, Canadian actors Ben Lewis, Kristina Pesic, Matt Watts, Chantelle Chung, and Abigail Chu waved from the stage. We even got a glimpse of Chu's audition footage.
Judging from the "Making of" featurette, the Scott Pilgrim DVD/Blu-ray will be well worth the money. Actor interviews, fight choreography, and location scouting where just some of the things this one feature covered.  The film may be filled with special effects, but the biggest cheers were for the practical.  The set change between Scott's bathroom (pee-bar scene) and Ramona's subspace hallway was amazing. In three seconds they were able to change the living room set into the hallway for one continuous shot.  I can't wait to see what else they have in store for us.
The Q&A was an eye-opener in the process of adaptations. Wright, O'Malley, and Wong took their seats on stage, along with the musical performance coach Chris Murphy (of Sloan).  Plans for a Scott Pilgrim movie were in the works since the release of the first book.  To ensure the project would be taken seriously a working script had to be written.  Throughout the process the script contained things they knew wouldn't be in the finished product.  They needed time of O'Malley to finish his books.  It's interesting to know that in the end Edgar Wright, the movie writers, and Bryan Lee O'Malley worked in collaboration.  O'Malley would share his notes with the production. Scenes (such as the Katayanagi battle) were taken from early versions of O'Malley's books. Other ideas (Robo-Gideon?) from O'Malley's notes were batted around but were ultimately cut.  O'Malley laughed, saying that they borrowed from him and he stole from them, and no one could sue.  Wright told us that O'Malley would call every time he wanted to use a line from the script in book six.  Clearly there was mutual respect in this working relationship.  Edgar Wright admitted he was afraid to phone actress Ellen Wong when they decided to re-shoot the ending to match with book six.  She laughed. "Edgar Wright is afraid to call me?" But Ellen understood the change and believed that Knives didn't need Scott to be happy. "It was more that she could be selfless and forgiving and do her own thing on her own…She gains a lot more important things in the end, regardless if she's with Scott or not."  Still, if you want to see Scott with Knives, the original ending will be available on the Blu-ray.
The discussion turned to box office numbers, and although Wright had to be disappointed, he was proud of his final product and wouldn't change it.  They joked that the sequel would be "Scott Pilgrim vs. The Expendables" or "Scott, Pray, Love." But like many of Wright's films, Shawn of the Dead, Hot Fuzz, Scott Pilgrim has a core fan-base, and they hope it will expand with the video release.  I really hope it does.  Each time I see this film i notice something new.  The cast is fantastic, the direction is fun, and it's truly an original movie.  It doesn't hide its Canadian roots, but celebrates them.  My favourite quote of the night came from Edgar Wright and celebrated the true Canadian-ness of the picture.  With a smile he jokes "I hope you appreciate a Canadian lead beating the crap out of Captain American and Superman…although we didn't know he was Cap when we cast him."
I left the theatre at 11:45 pm with a smile on my face and an even greater love of Edgar Wright and Bryan Lee O'Malley.  Tired, yes, but the long day was worth it, and I'll be first in line to get my copy on Tuesday.  If you haven't watched it yet, you're missing out. There is nothing else like Scott Pilgrim vs. The World.