Hi folks, welcome to ARCHIE G's. I'm your waiter, Raoul.
Here at ARCHIE G's, we don't think you can make a dependable Pull List decision based on the first serving of a comic. Publishers throw everything they've got at a first issue: promotions, gimmick covers, etc. And speculators? Sheesh, don't get me started on speculators. Because of stuff like that,  sales figures are always bloated.
You need to make your decision based on the SECOND issue, because it will give you a better idea what the series will be like, issue-in, issue-out.
Which is why I ask:
You Want 2nds?
  TODAY'S SPECIAL: Superman and Wonder Woman #2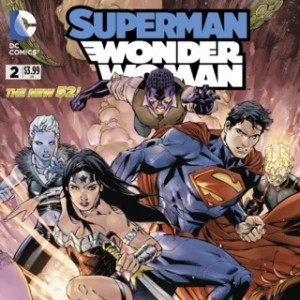 We've got a lot of people wanting to try this. Usually they order this item because they think they have a pretty good idea what they're gonna get when the dish hits the ol' placemat.
They think wrong.
In my opinion, you have to be adventurous in your culinary experience. You have to sample new dishes, new tastes, new cuisines. I remember the first time I ate escargot. Yeah, snails. The idea had always grossed me the hell out. Just thinking about slurping down those nasty, slimy things almost made me hurl. But how are you ever gonna discover new favorite foods if you never taste them?
I was dating this saucy little sous chef from Sausalito named Susie (who did NOT sell seashells by the seashore). She whipped up these escargot in the shell with a little herb butter.  It actually looked amazing! She plopped them down in front of me. I summoned all of my courage. This was my moment, Arthur Pewty. I grabbed one of those nasty, slimy, herby, buttery devils and slurped it down.
And then hurled.
I realized then and there, that I despise escargot with an abiding, incandescent hatred that can never be extinguished.
But I had to TRY the bastards before I knew that.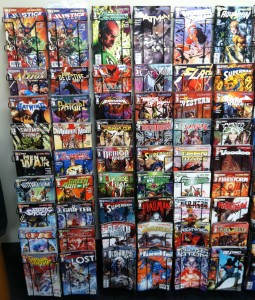 When DC launched the "New 52", the idea was to try new approaches with old properties. Well, that, and put collars on all the costumes, but mostly the other …the "new things-old properties".  Some were fantastic. Some were garbage. Most fell somewhere in between.
The re-imagining of the DC Universe is still settling into place, and one of the big changes is the relationship between Superman and Wonder Woman.
Here in issue 2, it all came together for me and I honest to God, laughed out loud when I realized what DC has done with this series. They have taken one of the oldest genres in comic book history and have made it interesting, compelling and wonderful.
"Superman and Wonder Woman" is a Romance Comic!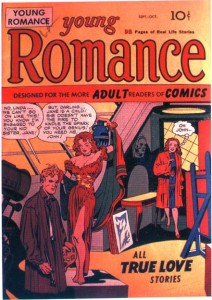 "Young Romance", "Our Love Story", "Heart Throbs"…"Superman and Wonder Woman #2" is just like them! You doubt your buddy Raoul? Here's what happens in S&WW2–
BOY MEETS GIRL. BOY INVITES GIRL TO HIS PLACE. BOY SHARES HIS FEELINGS WITH GIRL. GIRL INTRODUCES BOY TO HER FAMILY. BOY FIGHTS WITH HER BROTHER. BROTHER'S GIRLFRIEND GETS A CRUSH ON BOY. BOY'S FORMER GIRL PINES FOR HIM.
Classic Romance Comic. Of course this Romance Comic also has–
GIRL HAS ARM BROKEN BY INHUMAN KILLING MACHINE. BOY PUNCHES GOD THROUGH MOUNTAIN. CAMEL GETS DECAPITATED.
But, still, it's a Romance Comic.
Brilliant.
Like my adventure with escargot, writer Charles Soule and penciller Tony S. Daniels try new things (sans regurgitation). The story takes some nifty turns and yet makes perfect sense. The panels explode with energy and power and yet the smaller moments shine too.
This should be on EVERYBODY'S Pull List.
And Ladies, if you have been trying to get your boyfriend interested in comics, this would be a great book to introduce to him.
SEE WHAT I DID THERE? I TURNED THE WHOLE GENDER THING AROUND! I'VE RUN RINGS AROUND YOU LOGICALLY!
(Two Monty Python lines in one column. Not bad)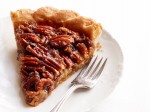 I give this four slices of pecan pie
And don't forget my tip. Ain't nobody gettin' rich here.