Hi folks, welcome to ARCHIE G's. I'm your waiter, Raoul.
Here at ARCHIE G's, we don't think you can make a dependable Pull List decision based on the first serving of a comic. Publishers throw everything they've got at a first issue: promotions, gimmick covers, etc. And speculators? Sheesh, don't get me started on speculators. Because of stuff like that, first issue sales figures are always bloated.
You need to make your decision based on the SECOND issue, because it will give you a better idea what the series will be like, issue-in, issue-out.
Which is why I ask:
You Want 2nds?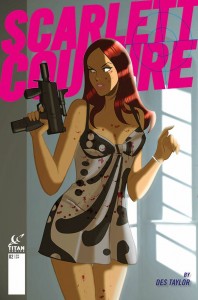 Today's Special: Scarlett Couture 2
Des Taylor draws pretty.
Thats not an assessment of his artistic ability, it's an assessment of his subject matter. He is really amazing at rendering attractive settings, clothes, and people. Everybody is pretty in Scarlett Couture #2: Cops, murderers, spies, I.T. people. Every male has a chiselled chin and a trendy, perfectly man-scaped stubble. Every female has flawless skin and cheekbones to die for.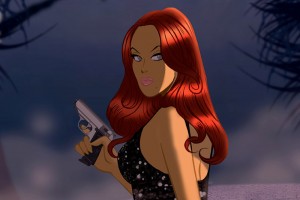 There's so much eye-candy in SC2 I went back to the indicia to see if this comic had been underwritten by Brach's.
And, by God…It Works.
I imagine this internal dialogue taking at some point a few months ago–
Des Taylor's Left Brain: Well, partner, your art is getting rave reviews.
Des Taylor's Right Brain: I don't want to seem all-braggy, Lefty, but I have to agree.
Des' Left Brain: They seem to appreciate how you combine modern kinetic storytelling visuals with pin-up art sensibilities from the 1940's and 50's.
Des' Right Brain: Jumpin' Crapcakes! You really are smart!
Des' Left Brain: Yes I am. Smart enough to ask this question: What would you do if a comic book company gave you complete control of a book?
Des' Right Brain: I just happen to have a thought about that…
That thought, I further imagine,  was Scarlett Couture,and thankfully, when the powers-that-be at Titan asked Taylor that same question, he was ready with this answer:
"It's called 'Scarlett Couture'"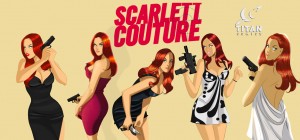 It's an International jet-setting spy story set in the world of high-fashion. Not Len Deighton or John Le Carre' kind of spying, with hunched civil servants being garroted in dark alleys, or bloated corpses washing ashore in the River Thames. No, these spy stories bear a stronger resemblance to the world of Austin Powers… minus Austin, or Dr. Evil, or Mini-Me.
Scarlett works for her fashion mogul mother as head of security, but she also is an operative for the CIA. Brilliantly, Taylor has sidestepped one of the biggest complaints about secret agent fiction:  Real Spies are not attractive seducers, because they would stand out. Real Spies are drab everyday-looking Joes and Josephines who blend into the background.
Des Taylor doesn't want to draw everyday-looking Joes and Josephines, he wants to draw hotties! (The man knows his wheelhouse). So he sets these stories in the world of fashion models where everybody's a 10!
Even his shooting victims present some of the most beautiful bullet-riddled corpses I've ever seen… and that's not me exaggerating for effect. It's one of the most unique aspects of this comic.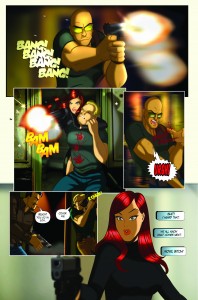 You see, this book contains gorgeous gunfights, stunning stabbings, eye-catching explosions. Taylor's style is deceptive. It has a very strong animation feel to it, like those books where they print individual cels in sequence, slap on some word balloons and bingo-bango-bongo you've got a comic book. There's a sort of security, a rhythm you find yourself settling into, with uber-smoking-hot characters in seductive, vibrant scenes. Then some psycho mows down about a dozen people in bloody detail and you are rocked.
It's kind of remarkable. It's a different kind of comic book reading experience. And I love me some 'different'.
The writing is good. It's a typical spy story. Equal parts whodunit, action thriller, police procedural. At times Writer Des is just a tad-bit referential. I'm pretty sure I'm not the only one who recognizes Domino's bikini from 'Thunderball' or think Scarlett (and her mom, for that matter) look a lot like Ann Francis as 'Honey West'. But the 'homaging' (Is that even a word?) works in the context.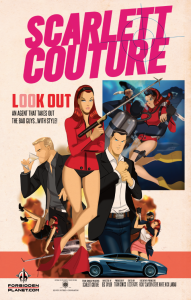 I do hope that Writer Des will put more a little more work into characters. I fully support the style choice of making everybody gorgeous, but without variety in the characterization and dialogue, the perfect faces all kind of blend in. Readers are going to get a little weary. I would hate to see that happen with this book. (For an example of what I mean, Writer Des, scope out James Coburn's 'Flint movies')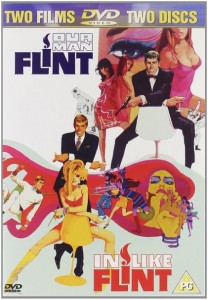 You want grim and gritty? Go back and re-read 'Sin City'. You want hot and fabulous? Instruct your local Comic Book purveyor to slap 'Scarlett Couture' on your pull list.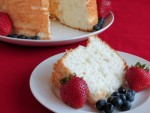 I give Scarlett Couture four slices of Angel Food Cake..Victoria's Secret Angels, of course.
And don't forget my tip. Ain't nobody gettin' rich here.
YW2? Original Art by Michael Mayne.