I intended to review Art Spiegelman's show while it was still running but I didn't get the chance so I apologize for this late entry. However, I took lots of pictures so hopefully the images can provide you with a sense of breadth of his work if you didn't have the chance to check it out.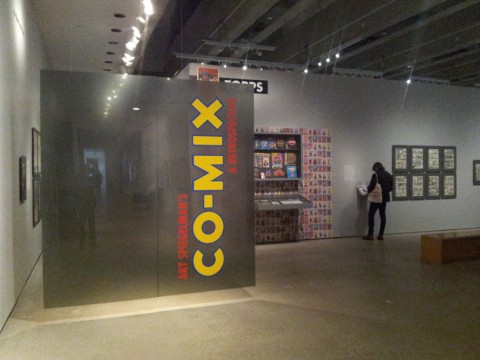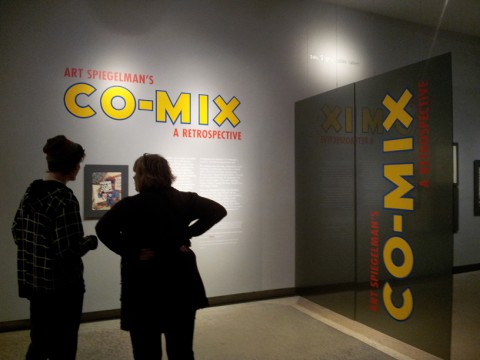 Maus is often spoken about in the same breath as the Dark Knight Returns (DKR) and Watchmen but let me come clean and say that I'm one of the few people who weren't as enamored with Maus. Some people have trouble delineating the "art" from the "artist", or in this case the "subject" from the actual "creative". Let me be clear and say that I do not marginalize the Holocaust. It is a tragic scar on humanity and such events should not be allowed to disappear into history. But what often happens with important subject matter is that the event overshadows the art. For the same reason that an animation film or a superhero movie won't win Best Picture with the Academy any time soon, films like Life is Beautiful, Schinder's List or The Pianist are considered artful by virtue of its subject matter and not necessarily the creative. The events depicted in these films, and Spiegelman's auto biographical account is simply too important to ignore. It could be that these projects do break new artistic ground but it's something that does not get talked about much in lieu of the historical event. As well, where do works by the likes of Joe Sacco fit into this dynamic? Yes, the impact of the Holocaust was great, but if artistry has any meaning shouldn't Joe Sacco's similar account of the Bosnian War also be seen in the same light? Of course, art is not about winning awards, and books like Maus or Safe Area Gorzde are very different stories than DKR or Watchmen.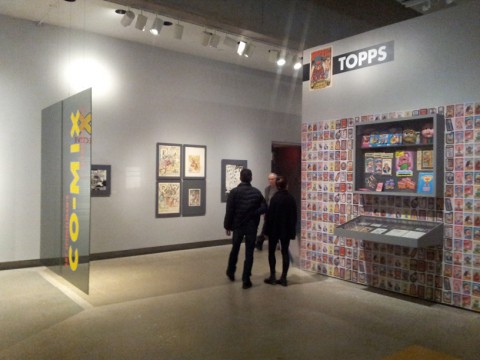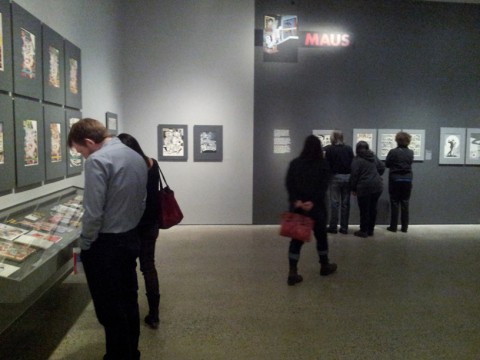 During December 20, 2014 to March 15, 2015, the Art Gallery of Ontario (AGO) hosted a retrospective of Art Spiegelman's work. On centre stage was his highly acclaimed work on Maus. For all those who complained that comic books are not recognized as art, Maus was another bridge that would help comics overcome this hurdle. Maus may not have been the first comic to be featured at an art gallery but it would be the most commercially successful and recognized. The AGO dedicated a substantial amount of space for this exhibit. They featured Spiegelman's early works, both commercial and personal work, and lots of sketches and prelim work, which is the kind of stuff I enjoy. I was impressed by the sheer volume and variety of work on display. From playful sketches to diagrammatic drawings that demonstrated Spiegelman thinking as he worked out details for his composition and the accuracy of his perspective. His work was clearly post modern and "comix" in origin, which denotes an underground counter culture. If comics do not seem to get the respect from the greater audience, comix tend to get even less due to it's anti establishment and satirical nature. Although you could see a development from Spiegelman's early works to Maus, I felt all his works were fairly consistent artistically, but it took the seriousness of Maus to get the attention of an institution like the AGO.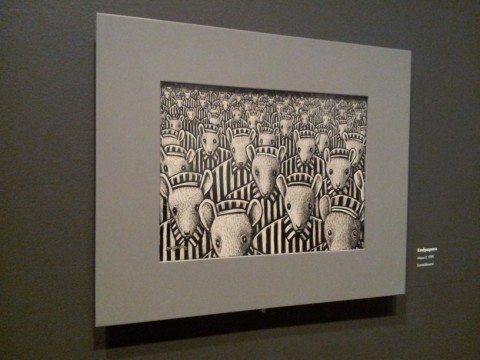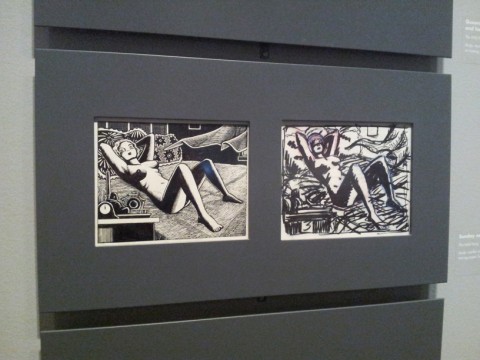 Much like the Ikea showroom, these shows tend to be laid out on a path with works sequenced according to the sensibilities of the curator. The work was presented on grey walls using grey mattes. Somber yes, but considering how colourful and varied the works were, it help to unify the overall presentation while remaining neutral. I felt the show was well thought out, as evidenced by the details such as the consistency of the frames and the grouping of similar works or periods. I especially enjoyed the way the pages for Maus was presented. Each page ran side by side in a long strip around a large area under glass with preliminary work branching off their respective pages. It gave the audience a chance to contemplate the amount of work that went into developing each page. The audience could view it in sequence without any other art to distract them.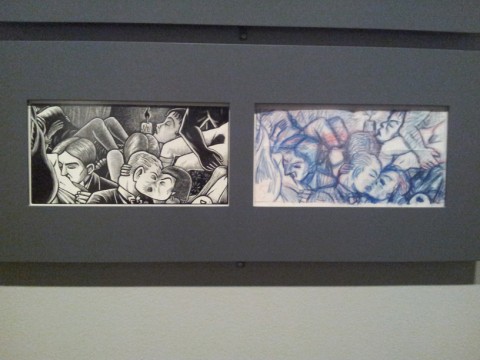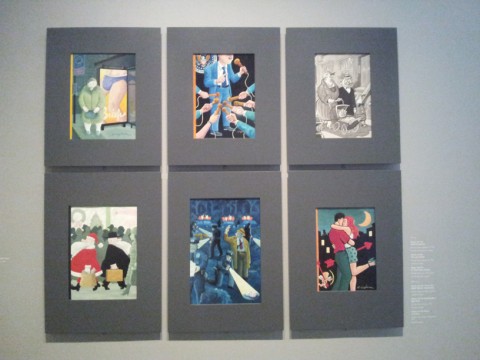 Art Spiegelman is 67 now and in viewing his retrospective I was taken by the vast quantity of his work on display. Whether you like his work or not, there was no denying the effort he puts into his pages. Success often appears easy and people tend to make quick judgements about it but if you consider that it took Spiegelman 13 years to create Maus, it's an incredible demonstration of his commitment. Successful creators such as Chris Ware or Joe Sacco also spend years developing their projects, not just one or two years but six, seven or eight years! I can't help but wonder how these people are able to maintain their motivation for such an extended period of time. Considering that indy comics is a tough field to break into, Spiegelman does make it seem effortless. However, the magic of it all is an illusion because the celebration here is the incredible amount of hard work and dedication put out by Spiegelman.