Hi folks, welcome to "Archie G's. I'm your waiter, Raoul.
Here at Archie G's, we don't think you can make a dependable Pull List decision based on the first serving of a comic. Publishers throw everything they've got at a first issue: promotions, gimmick covers, etc. And speculators? Sheesh, don't get me started on speculators. Because of stuff like that, first issue sales figures are always bloated.
You need to make your decision based on the second issue, because it will give you a better idea what the series will be like, issue-in, issue-out.
Which is why I ask:
You Want 2nds?
Today's Holiday Special: Yuletide à la carte
Admit it. When you think of Christmas and dining out, your mind jumps to Ralphie and his family in the Bo Ling Chop Suey Palace, eating Peking Duck while the kitchen staff sings "Fa-ra-ra-ra-ra Ra-ra-ra-rahhhhh!".
While a hilarious scene, there's something a little sad about it. None of that here at Archie G's. We're all about the Holly and the Jolly. So, nothing but good recommendations today.
You know that time Christmas afternoon? 100% of the presents have been opened and 50% of them are already broken. Your gut is swollen with fruitcake and nog. You're still about two hours away from Christmas Dinner, and two-and-a-half-hours away from Drunk Uncle taking a swing at your Dad and knocking the Christmas Tree into the fireplace.
My suggestion? Dive into good old Comixology, and check out some great Christmas reads: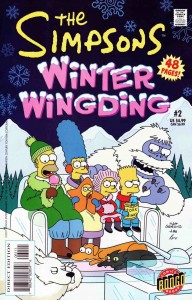 Simpsons Winter Wing Ding #2
All of Bongo's Simpson Winter Wing Dings are terrific, but I single out Issue #2 because…well, that's what we do here at YW2nds, and for the opening story "The Christmas that Lasted Forever".  For those of you who only know Chuck Dixon as a master of two-fisted action,  you will discover that he's also one of the funniest writers working the biz today. Only Dixon could come up with Snowy, the One-Eyed Snowman who wields a wicked hockey stick and uses it to wallop Christmas Fairies…Angels…sorry.
Justice League Unlimited #28
If you have always blown off the Justice League Unlimited animated series and accompanying comics as kids' stuff, then you are officially designated as a 'numbnuts'. Issue #28 is a holiday-themed story where writer Mike McAvennie, penciller Sanford Greene, and inker Nathan Massengill fuse Dickens Christmas Carol with "It's a Wonderful Life".  'Season's Beatings Justice League' is funny, thoughtful, poignant and action-packed. And like all good stories, gives insight into its main characters: Superman, Flash, and mostly Batman. Share this with your little one and do away with your numbnuts designation.
The Spirit #447
There's a reason the Eisner Awards are named the Eisner Awards. Will Eisner was the greatest double-threat artist/writer in the history of the comic book artform. He was a revolutionary genius who did more to take comics from -strips to -books than any creator before or since. The Essential Spirit Collection: Christmas Spirit of 1948 features Issue #447. In 8 pages, Eisner tells a wonderful story with more detail and characterization than most of today's full-length movies. A smart producer should have this turned into an animated holiday special long before now.
Krampus!
In the introduction to this Image collection, writer Brian Joines thanks his influences, like Keith Giffen, Ben Edlund and JM DeMatteis. I would be willing to bet a million chocolate gold coins that he is also a fan of the TV show "Bullet In the Face" from a couple of years ago. 'Krampus' is a tremendous comic series collected here to tell the story of the Krampus: the Yin to Santa Claus' Yang..or more accurately Santa Clauses' Yang. Joines writes hilarious dialogue and somehow makes a hundred different Santas speak with a distinct voice. Similar kudos to Dean Kotz, Ron Riley and Charles Pritchett for putting on the page, the "jumbled ideas" in Joines head (his term). Krampus is a blast.
Legend of the Dark Knight #79
This is one of my favorite Christmas comics ever published and once again, it focuses on our favorite Caped Crusader. Issue #79 of Legends of the Dark Knight was written by Mark Millar (Yeah, that Mark Millar), pencilled by Steve Yeowell and inked by another Hall of Famer, the amazing Dick Giordano. "Favorite Things" reads like a standard Batman story with the DK Detective tracking down a burglar, but his driving motivation to recover these particular stolen goods give the tale a unique twist. The last two panels blew me away. Most importantly, this comic was edited by this joint's namesake Archie Goodwin, the best ever. We miss you, Boss.
And for my tip, just do one thing for me: Have a great Christmas.