Auction Highlights has somehow turned into a Friday thing. Check back every Friday for some hard hitting commentary on recent auction and internet sales results.
It was announced last week that there are plans to make a second Ghost Rider movie with Nicholas Cage returning in the lead role. Personally I thought the first one was pretty bad but I guess Columbia Pictures doesn't want to give the franchise back to Disney/Marvel (something they'd have to do if they didn't actually use the franchise).  In honor of this announcement I thought I'd take a look at some key Ghost Rider comics and check in on how they've been fairing lately on the auction and listing markets.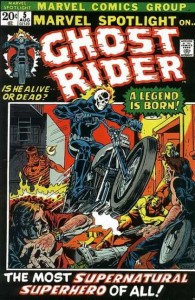 Marvel Spotlight #5 (1972, 1st appearance Ghost Rider)  graded at CGC 9.0 sold for $400 on ebay on September 25th. The Overstreet price guide value for a 9.0 grade is $309. This book sold for about a 30% premium over guide. Another copy of Marvel Spotlight #5 graded at CGC 7.5 sold for $165 on ebay on September 23rd. The Overstreet price guide value for a 7.5 grade is $142.50. This book sold for about a 15% premium. A third copy graded at CGC 6.5 sold for $89 on September 22nd. The Overstreet price guide value for a 6.5 grade is $93.50. This book sold for about 95% of guide. The sales pattern fits my market trends model quite nicely (see Market Trends September 2009) with the higher grades commanding the highest premium percentage. I thought the CGC 6.5 preformed quite well, almost selling for guide.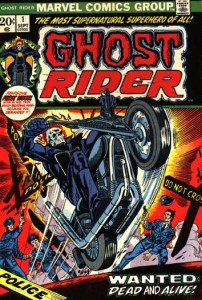 Ghost Rider #1 (1973) graded by CGC as a 6.5 sold on ebay for $75 on September 24th.  The Overstreet price guide value for this comic graded at a 6.5 is $53. This book sold for over 40% above guide. Not bad for a mid grade copy of a 1970s comic book. It helps the seller a lot when there's no other copies available.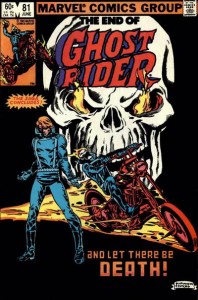 Ghost Rider #81 (1983, last issue) graded by CGC at 9.2 sold on ebay for $28.88 on September 26th. The Overstreet price guide value for this comic at 9.2 is $20. This comic sold for a premium of over 40%. Again not bad for a 9.2 copy of a 1980s comic book. Remember that 9.2 grades for comics in this era are quite common and not even considered very high grade.  I'd like to see what a CGC 9.6 or a 9.8 would fetch (a CGC 9.6 has just been posted on Comiclink).
As you can see there has not been much activity on the Ghost Rider front lately. Someone should throw some up quick to capitalize on the lull. Right on clue there's a huge run of Ghost Rider up right now on the October focused auction on Comic Link. It's a nice run that's labeled the #3 registry set. I'm expecting some good activity on these books. 
Walter Durajlija is an Overstreet Advisor and Shuster Award winner. He owns Big B Comics in Hamilton, Ontario.