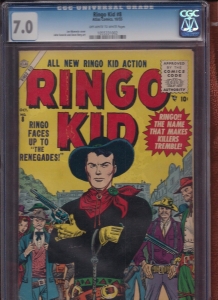 Ringo Kid #8, Atlas Comics, October 1955, CGC graded 7.0 with Off White to White pages recently sold on eBay for $36.
I'm not sure how I came across this result but I did a quick double take when I saw it. Isn't $36 too cheap for an old Atlas comic from the 1950s? This copy of Ringo Kid #8 has a nice high CGC 7.0 grade with strong OW/W pages, it sold for just over half the Overstreet Price Guide value (which itself seemed cheap).
I'm sure I've visited this topic before but I'll ask again if there is any hope for the Marvel westerns? Marvel has a strong stable of recognizable names like Rawhide Kid, Two Gun Kid, Kid Colt Outlaw and Ringo Kid. These were westerns done the "Marvel Way"!
Westerns are such an ingrained part of American history and culture and I wonder if there will ever be a way to cross these characters over into the general popular culture of today.
Judging from this result the immediate answer would obviously be no.
Advantage Buyer