Completing Thursday December 18th 2014, Russ Cochran's Comic Art Auction #129 contained some interesting items. A regular event run by Cochran with less than 100 items, these have become the definitive source for Frank King Gasoline Alley strips, and this time around was no different. Let's take a look at five items that caught my fancy.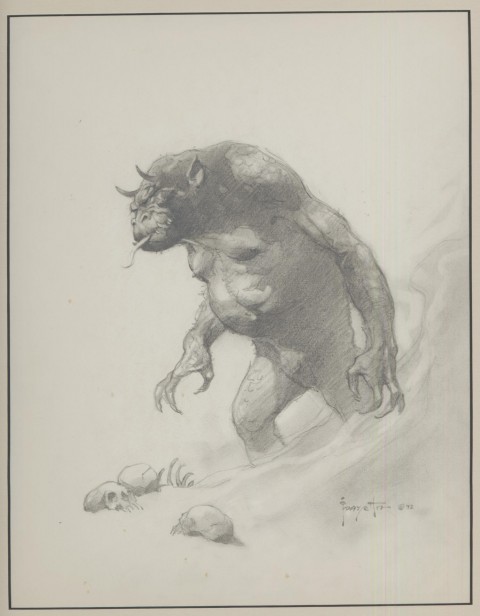 Pencil illustration by Frank Frazetta, 1992, sold for $ 6,785. Source. An untitled work from late in his career, Frazetta was a master and it shines through here.
Advantage Buyer. Frazetta covers a range of collecting groups: fantasy, comics, pulp. As such his work remains in high demand. While "only" a pencil illustration it is well defined. That price falls on the current low end for Frazetta pencil work, and it's far more than a sketch.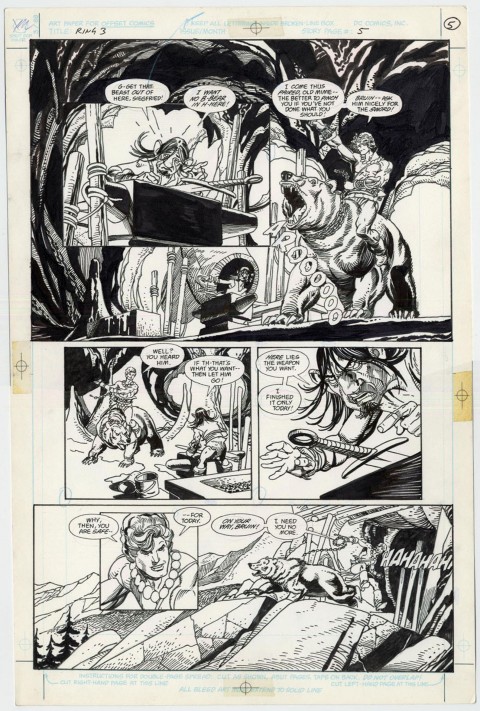 The Ring of the Nibelung issue 3 page 5 by Gil Kane, 1989, sold for $202.40. Source. One of two pages from this series and both were poorly identified. Roy Thomas and Gil Kane adapted the famous Wagner opera for DC in 1989 as a four issue prestige mini-series.
Advantage Seller. A surprising number of pages from this series have come up for sale and this one falls right in the price average. It's a strong Kane page with his signature style, but no characters he's known for. I give it to the seller because the auction didn't identify it as Gil Kane, just "DC Comics Page 5 of a Ring 3 Comic". Worse was the other page "DC Comics Page 48 of a Thor Comic".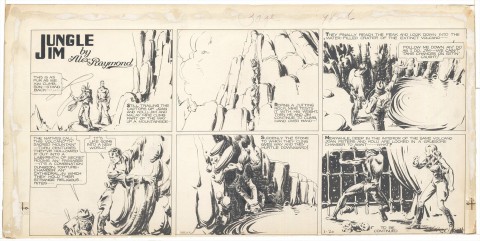 Jungle Jim Sunday 01-20-1935 by Alex Raymond, 1935, sold for $8,625. Source. Early Jungle Jim, full of action and thick inks. I so wanted this page!
Advantage Buyer. A great price for such an early Raymond Sunday; on the high side for recent sales but Raymond's work continues to climb.

Gasoline Alley Daily 10-27-1920 by Frank King, 1920, sold for $230. Source. Bill and Doc discussing the body like a car with references to prohibition and alcohol by prescription.
Advantage Buyer. Classic Gasoline Alley material with nicely detailed characters and the usual King dialogue. On the low side for this era, but it doesn't have Walt.

Gasoline Alley Daily 02-17-1921 by Frank King, 1921, sold for $1,874.50. Source. Early Skeezix strip although he's only a silhouette, but Walt is in every panel. Another person as car reference.
Advantage Seller. This one seemed high for average, the draw being early Skeezix. What a contrast to the strip above as King moved into the family angle and away from the automobile focus.