For most comic fans the definitive Shadow was written by Dennis O'Neil and drawn by Michael Kaluta for DC's The Shadow.  Unfortunately that body of work consists of five issues drawn between 1973 and 1974, a graphic novel in 1988 and a backup story in 1989.  Lucky for fans that material is collected in two volumes: The Private Files Of The Shadow and The Shadow 1941: Hitler's Astrologer.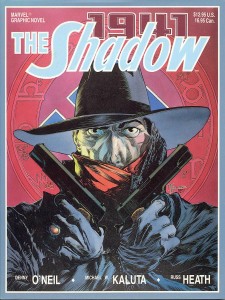 Lost in the mists of my memory are the legal reasons but Marvel produced an original graphic novel with DC's '70s Shadow creative team in hardcover.  DC had released Chaykin's mini series The Shadow: Blood & Judgement in 1986 and an ongoing series in 1987 by Sienkiewicz and later Baker. For a copyrighted character it seems odd to appear at two publishers in the same year.
The Shadow 1941: Hitler's Astrologer was an oversized volume in Marvel's graphic novel line (number 34) that featured an odd 60 page story of the Shadow fighting Nazis at home and abroad.  The Shadow utilizes his group of followers to accomplish his goals; in fact they get more face time then the lead character.
The following year DC collected The Shadow issues 1-4 and 6 along with a new story in The Private Files Of The Shadow.  While the original series lasted twelve issues Kaluta only worked on five.  This 128 page regular sized hardcover has a great introduction by O'Neil and a new fifteen page story, In The Toils Of Wing Fat, written and illustrated by Kaluta.  It's a stark contrast to see Kaluta's work with a fifteen year gap; enjoy both in the context of the period they were published.  These stories stick to their pulp roots, crime and punishment, and deliver the goods.
These two volumes are collectible for one reason: they represent all the Shadow stories told by O'Neil and Kaluta.  They currently sell for around their original cover price and are a relative bargain.  Dark Horse acquired the Shadow license in the 1990s and produced a few mini series with Kaluta writing, penciling or both.
The Shadow 1941: Hitler's Astrologer
Marvel, 1988, ISBN 0871353415
The Private Files Of The Shadow
DC, 1989, ISBN 0930289374