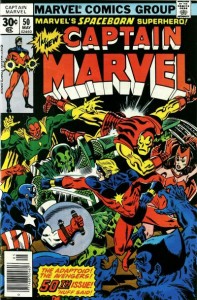 Captain Marvel #50, Marvel Comics, May 1977
The Captain Marvel run is easy and fun to collect. Launched in the memorable month of May 1968, the same month that launched Iron Man #1 and Sub-Mariner #1. The series lasted 62 issues and featured the now classic Jim Starlin Thanos saga (#25-33).
Issue #50 is a little sleeper that has a checkmark for many of the items that should be on a collectible comic checklist.
Does it have a black cover that is harder to find in high grade? Check it out check.
Does it have a fantastic battle cover? Hit the deck check.
Does it have a great cross-over that will have other collectors wanting this book? The Avengers so check check areck check.!
Is it a special issue? 50th issue so just a light check but still a check.
Is it cheap now in the Guide? Checkaroony.
This is one of those comics grouped in the same price range as the issues around it (issues 35-62 are all listed at $12 with a few exceptions at $14) but when you leaf through guys Captain Marvel bins it's never there.
The 40th edition of the Overstreet Price Guide shows a $12 value at the 9.2 grade.
Strengths that make this comic book a good long-term investment are:
Jet black cover should be prized in high grade
Great battle cover featuring none other than the Avengers
Late Bronze Age is being collected more and more
$12 Guide value for high grade copies leaves lots of room for appreciation