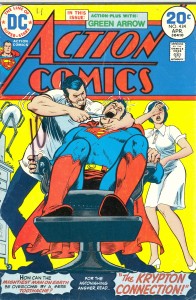 The Cover: What do we know about Superman? Well, according to this cover, he's a total wuss when it comes to a visit to the dentist. Look at the dentist put his back into it as he's trying to pull that tooth out! Superman is gripping that chair for dear life while the assistant looks like she's about to faint, probably in embarrassment for Superman.
The Story: How does every great Superman tale start off? With him going for a cruise around the city of course! Flying around the sky like he is doing mid-air jumping jacks, he hears the "unmistakable" sound of a woman in distress. This is followed by the best writing in comics ever; "I better follow that shriek to its mouth!" Who talks like that? To me, it sounds like he either wants to follow that shriek to the mouth so he can sock it or kiss it to make it shut up. Arriving at the scene, Superman encounters a GARBAGE truck that has what he deems a rubbish ray. That's right, when everyone runs out of ideas to defeat Superman, they suck up garbage and shoot it at him.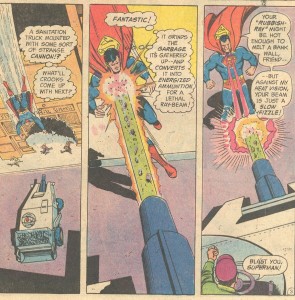 Undeterred, the crooks pull out an ultimate weapon to pummel Supes with. But before you can say dues ex machine, a lightning bolt flies from the sky and destroys the weapon upon which Superman uses his Super-Kick to stop the truck.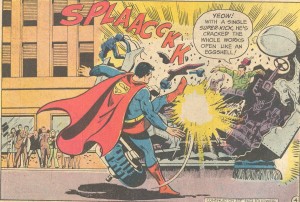 After Superman tosses the crooks into a waiting police car, we cut to a pair of mysterious hands that explain that the bolt was their doing and they have some kind of sinister plan for Superman. Arriving in his office, Superman changes into his Clark Kent identity and notices what he describes as a foreboding gun and a box of chocolates on his desk. Trusting his super-instincts, he ignores the potentially delicious box of chocolates and picks up the gun instead. After picking it up, the gun erupts into a display of light which…does jack squat and Steve Lombard enters saying it was a practical joke. Raise your hands if you think the writer and artist had a brainfart and needed to waste 5 panels to fluff up the page count.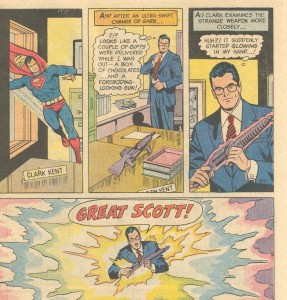 Setting aside the toy gun, Clark eats one of the chocolates only to find to his horror that…it hurt his tooth! Whining like a little girl because he's never had a toothache before to Lois, she takes it upon herself to take him to see a dentist. While Clark sits in the dentist's chair, Lois notices that the receptionist happens to be the same woman who dropped off the chocolates for Clark. After revealing this oh so amazing turn of events, the receptionist stuns her with…a memory extinguisher…aka a flashlight? After being stunned, Lois returns to the Daily Planet with no recollections of taking Clark to the dentist.
 As Clark drifts off to unconciousness, the fiendish dentist and assistant take off their disguises to reveal themselves as Dr Xadu and Zeda; a pair of kryptonian criminals that were tricked onto a red sun planet by Superboy. Managing to somehow escape the planet, they taunt Superman as he drifts off to sleep. After waking up and ready to do battle with the duo, Superman finds himself in an ordinary dentist's office ready to pummel the crap out of an innocent dentist who entered his office to find a weirdo asleep in his chair.
Heading back to the Daily Planet office to get some work done, Superman remembers he has something he forgot to do…DESTROY THE WORLD! And our tale for this week ends with Clark Kent donning his Superman costume to wreak a path of destruction across the planet. As Xadu and Zeda watch from behind some kind of magical cloud.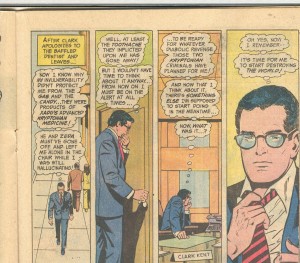 The Rating: 3/10: Eh, we do have Superman showing up to the dentist's office with a toothache, but we don't get to see the dentist wrestling for dear life as he is yanking on a tooth. So it's a poor score this time around.