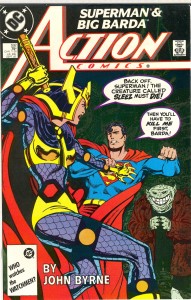 The Cover: It's Big Barda with her phallic megarod about to cave in Superman's skull, while Superman has got his fist zeroed in on her face! What could be the cause of this strife between these heroes? Well, it could be because Barda is trying to kill that ugly little green guy called Sleez and Superman is trying to prevent it. The million dollar question is…why is Superman protecting something that obviously looks like an evil turd? He's a dirty shifty looking heap with the most devious grin on his face!
 The Story: Our story kicks off with Big Barda going for a walk in Metropolis and talking a wrong turn into a sleazy part of Metropolis where she stumbles upon a pimp looking like he's about to make an example of one of his…um…employees.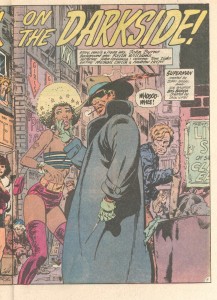 Thinking Barda is a prostitute as well; the pimp named "Fancy Man" accosts her only to be thrown into a heap of garbage. You know, when a pimp calls himself the Fancy Man, it might cause some of us to wonder about his sexual orientation, just saying. Then some genius thief thinking it's a great idea to steal from a woman, who just backhanded a pimp, steals her purse and runs off with it. Barda chases the thief down into the sewers where the thief is ambushed by the creature we will know to be called Sleez who finds the megarod in her purse. Down in the sewers, Barda changes into her battle armor and is attacked by Sleez who is using her megarod against her.
We then jump forward two days where we find Clark Kent inside a hospital in Suicide Slum where Clark Kent is working on a story on the homeless. Looking around the room, Clark learns that all of the patients in the room have lifespans dozens of years above the average person. Scanning the bodies, Clark finds that all of these people have some kind of unusual radiation in their bodies that are prolonging their lives. Clark then excuses himself to don his Superman costume and fly off to Suicide Slum to muse philosophically and rattle off statistics about Suicide Slum. Superman then detects traces of the peculiar radiation and wonders where it could be coming from.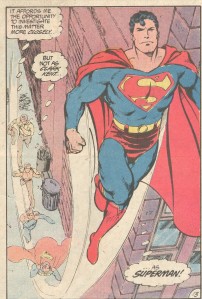 Well, we're gonna have to guess it's from the megarod, because we cut back to Sleez where he appears to be using the rod to force Barda to perform some kind of modern interpretive dance striptease?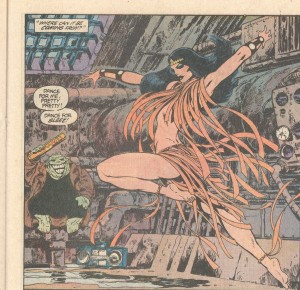 Wow, that's pretty risqué for the average young reader at the time. Remember, this was before the dawn of the internet and every young man had the vast world of porn at his fingertips! So Barda's prancing around in some kind of ribbon outfit while Sleez launches into an exposition about his origins. Apparently he used to be a favored advisor to Darkseid on matters of cruelty and vice before Darkseid grew bored with that stuff and banished him with the Omega beams to Earth. As Sleez makes some advances on Barda, Superman shows up in the sewer to throw him aside causing him to drop the megarod. Seeing her chance, Barda snatches up her megarod and is about to kill Sleez when Superman stops her from killing him. Superman never explains why he is stopping her, but Barda somehow decides that Superman would never stop her and he is somehow a pawn of Sleez. Barda then begins to beat on Superman with the full force of the megarod knocking him out. As she is about to deal the final blow, Sleez pulls a switch which opens a trap door sending them both plummeting to the depths. Wait, why is there a trap door in the sewers? Did Sleez have nothing better to do except dig a hole in the sewer?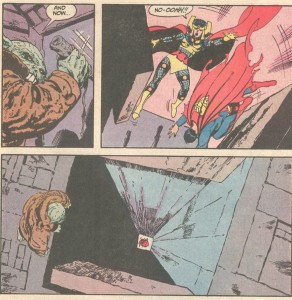 But that's where the issues leaves off, as the story continues on in the next one where I absolutely guarantee the events will shatter your perceptions of Superman!
The Score: 8/10: The scene where Superman prevents Barda from killing Sleez happens, but the dialogue is slightly different. But it's darn close enough!