The Cover: Look! For once it's not a Superman cover! It's a Christmas themed issue with Batman tearing off his cowl in anger and declaring that his parents deserved to die. Man, this guy has got all kinds of childhood issues. First he decides to become Batman to avenge his parents, and now he's decided that his parents deserved to be killed by a mugger? Somehow his parents deserving to die means that Batman has to die? I'm gonna give him the benefit of the doubt and assume he means he will give up the identity and not throw himself off a bridge. And what's with Huntress creeping behind a tombstone? Creepy!
The Story: Like any good Christmas story, we open up with a shot of an orphanage on Christmas Eve with children not having any new presents to open. All of a sudden there's a knock on the door and a pile of Christmas presents being left on the doorstop by Batman. After this heartwarming page, we cut back to Jim Gordon on the rooftops by the Bat-Signal who is being all mopey about being forced out by the new administration. Batman drops by to listen to Jim and hear about how a witness in a mob trial has had his records stolen by a mob man and he needs Batman to track him down. So Batman sets off to track down his quarry who is wearing a Santa Claus outfit and begins chasing him down the street.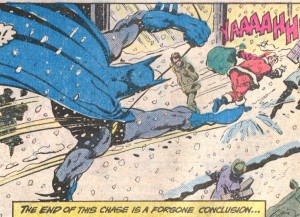 And all of a sudden to bring us out of the gritty streets of Gotham and street level thuggery, Earth-Two Huntress pops out of a dimension hopping booth to visit her "Uncle Bruce" who is sort of her but not really father. Cut back to Batman who is pummeling the crap out of Santa in a back alley. While taking a break from pummeling old man Claus, he reads a record that says that Thomas Wayne was bankrolling a gangster. In his shock, he almost gets shot by Santa until Huntress shows up to save him.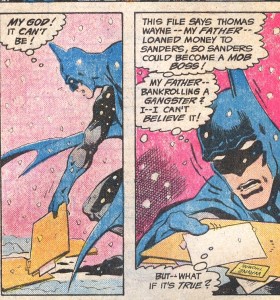 Back at Wayne Manor, it's Bruce's turn to be mopey as he is filled with angst about how his father apparently bankrolled a gangster. Huntress tries to snap him out of his groove by telling him to use his detective skills to solve this. She should have just slapped him and tell him to man up, but whatever.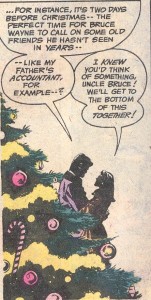 So they meet up with Thomas Wayne's former accountant; Mr. Randolph who now has a nerve disorder which keeps him confine to his home. After examining the records at his home, they find that they show that Wayne did make payments to a gangster named Sanders whom they pay a visit to afterwards.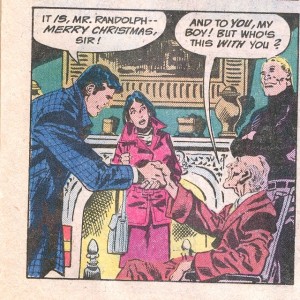 While beating the tar out of his guards, Sanders plays them an audiotape with Thomas Wayne's voice talking about the payments he made. This pisses Batman off so much he rushes off to his parents graves and angrily declares himself to be a hypocrite for being the Batman to avenge his parents when they bankrolled mobsters. Obviously he never planned on helping people for the sake of helping people or being a good guy, it was always about the revenge. So he throws off the cowl and goes off to have some fun with promiscuous women. After leaving his women behind, he witnesses Huntress save a man from being hit by a car in front of and decides that Batman really was about sparing children the pain of losing their parents. Um, no kidding!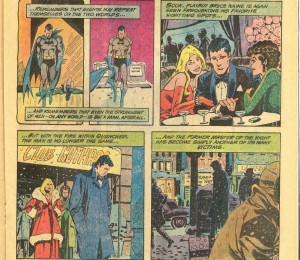 So Bruce then remembers some obscure memory about Randolph having a nervous twitch. How this factors in? Well read on and I'll tell you! Batman rushes to Randolph's to confront him about how he disguised himself as Thomas Wayne and the nervous twitch proves it. Wait what?? How the frig did you jump from a guy having a nervous twitch to him making shady backdoor deals disguised as your father when you were never there and don't have any video or photographic evidence? Anyways, after this leap of logic, Batman leaves him to his neurological disorder which leaves him imprisoned in his home. Meanwhile, Huntress is at Sander's plan telling him that his plans have been revealed and that she has dropped off evidence of his crimes. And finally, our tale ends with Christmas Day and a happy ending for everyone.
The Rating:  8/10: Not bad, not bad. The dialogue and scene were there, the story was just terrible but can't let it detract too much from the fact that that cover happened.