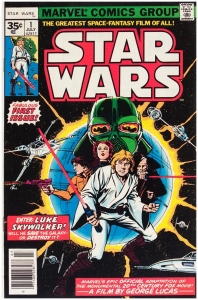 This week's Overvalued Overstreet points at the 35 cent price variant Star Wars #1, a book that has proven me wrong on every turn for a good 5 years running. I know I've covered it a few times over on the Auction Highlights column: each time I choose Advantage Seller and each successive listing of the book gets even more than the last one. This is one hot comic book.
Thankfully the Overvalued Overstreet column has provided me with a soapbox to stand on and yell at the top of my lungs to the world that the 35 cent variant Star Wars #1 is overvalued.
I know I'll get some flak for this, and to my defense I really do remain bullish on the back issue comic book market, I think there are new heights to attain in many genres and eras. I see a market that still holds tons of opportunities. I will call this book out though; I am allowed to express my opinion. And it's not like anyone listens to me any way. Like I stated above, I've expressed this opinion for years in my other column. The book keeps skyrocketing.
Marvel usually tested out price increases by shipping a small percentage of higher priced issues to select cities to gage consumer response. One site on the web said the cities that got the Star Wars price variants were Toledo, Tuscaloosa, Wilmington and Memphis. Because of this limited distribution the print run was relatively small for the price variant, 1,500 copies according to the Overstreet Guide. Everything else is the same as far as I know, the cover, the contents are the same.
As of this post there are 157 CGC copies with the blue Universal label. There are 2 graded at 9.6 and then 10 graded at 9.4. Recently a CGC 9.4 sold for $26,290, which was up from the previous record of $23,000 which was up from $11,131 months earlier.
I guess the problem I have with the book is that it does not deliver the fundamentals I look for when plopping a lot of money on a comic. Things like character introduction (in this case in the comic media), scarcity (of the content I guess), cover appeal, importance and influence are all present in Star Wars #1. Present enough to deliver value in the hundreds of dollars, adding a limited number of price variants shouldn't change those hundreds of dollars into tens of thousands of dollars in my opinion.
Perhaps there's something I'm missing? I'm all ears and am actually eager to be converted to the variant side.
The 45th Overstreet Price Guide has the 8.0/9.0/9.2 splits as follows:
30¢ cover – $64 / $132 / $200
35¢ cover – $1708 / $3854 / $6000