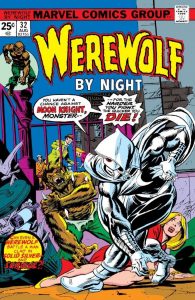 There is not a hotter bronze-age book on the planet right now than our Overvalued Overstreet book Werewolf by Night #32 featuring the first appearance of the Marvel super-hero Moon Knight.
Moon Knight first rode on to the scene via helicopter, with his trusty pilot "Frenchy" in August 1975 in issues #32 and #33 in the pages of Werewolf By Night. He was an instant hit and quickly returned in issue #37. He followed this up with a couple of appearances in Marvel Spotlight #28 and 29 and later his own series. He fit in quite nicely with Marvel's new band of west coast super-heroes.
Moon Knight's civilian identity is Marc Spector, a mysterious guy with lots of money. He also turned to out be a psychiatrist's dream. He had multiple personalities, spoke to the Moon God Knonshu, killed people occasionally, a real psychological trainwreck.
Moon Knight had a rather creepy all-white costume. He had a utility belt filled with crescent moon gadgets and other gizmos that reminded you of the Dark Knight's belt. In fact, he reminded me quite a bit of Batman without a memorable "rogues gallery" of villains. He is a superb athlete, specializing in various martial arts. He draws extra power from the moon, the bigger the better.
Overall, I would sum up Moon Knight as an intriguing "B" character in the Marvel Universe, with a small but devout following. In no way shape or form is he mainstream or an "A" list character.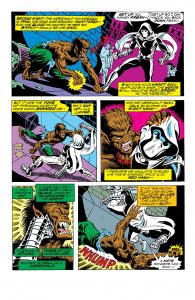 I don't think I can remember a more over-hyped and speculated book in some time. Speculation on a possible Moon Knight Marvel movie or TV series has been going on for a couple of years now and reached a fever pitch in April of this year when Disney management reportedly stated that a Moon Knight project would soon be in the works, no confirmation if it was a movie or TV project. I would suspect that we won't hear anything official until after Phase 4 of the MCU is announced sometime in 2019.  On the other hand, a TV project could be announced anytime, and in my opinion, would have a chance to do a better job of exploring the many dark facets of Moon Knight's persona than a two-hour movie.
The current 48th Overstreet Price guide valuations are 6.0 $300, 8.0 $600, 9.0 $975, 9.2 $1350. This price info is 3-6 months out of date as recent sales of 9.2 Werewolf By Night have made it to $1800.  Overstreet can't be of much help on this upswing and will be just as useless when this book begins to recede. Overstreet should never be used for price info on rapidly rising or falling books. It is more of a hindrance than a help. Higher grades are getting even crazier money for this book right now.
I am at a total loss to explain the rapid rise of this book. It is not rare, but obviously, current demand outstrips supply. I can't explain the demand either outside of movie speculation fever. This would be a quick in an out story for this book if you were buying it. Pretty soon this book will be closing in or surpassing Giant-Size X-Men #1 and Amazing Spider-Man #129 values. All for the first appearance of Moon Knight 😊!
There are many places to spend $1800 on comic books, and Werewolf by Night #32 would not be one of them for me.