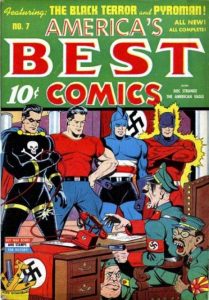 America's Best Comics #7, Standard/Better/Nador, October 1943.
I want to thank CBD iron man Mike Huddleston for this week's Guest Spotlight submission. I've said it before and I'll say it again, I love Mike's Spotlights, his posts ooze knowledge, wisdom and a passion for the hobby that turns me shades of green. Better green than blue is what I say but enough of what I say, lets hear what Mike has to say – take it away sir.
Today's Undervalued Spotlight shines on artist Alex Schomburg and Golden Age hero The Black Terror, and a great comic book that is America's Best Comics #7.
Alex Schomburg doesn't require much introduction as his World War II covers are quite famous across a number of comic titles with Timely perhaps being the best known. There are plenty of other titles and works that really require a separate post to do them and the artist justice. Pretty well all of Schomburg's war covers have strong demand.
Our focused hero today is the Black Terror. Bob Benton is a pharmacist by trade who stumbled across/ invented "formic ethers" which give him super-powers. His first comic appearance is in Exciting Comics #9. He starts his career as the Black Terror battling crime and quickly turns to battling the Axis for the duration of the war. He continues battling crime after the war until 1949 when the last of the three titles he has been headlining is cancelled. The Black Terror also has a partner, his lab assistant young Tim Roland. Together, they battle the bad guys as the "Terror Twins".  I always loved their costume with the poison skull label out front. I often wondered if the Punisher creative team of Gerry Conway/John Romita/Ross Andru. were influenced by the Black Terror when they were creating the character. The Punisher has changed over the years, however early on bore some resemblance to the Black Terror.
America's Best Comics #7 was published in October 1943 by Standard/Better/ Nedor publishing. The book was a compilation style book of assorted Nedor heroes and stories. In this issue, there are four heroes The Black Terror, Pyroman, Doc Strange, and the American Eagle. This book is available to read via public domain as Standard Publishing vanished in 1956. Reading these old stories can be a real hoot. I did read the first story in the book featuring the Black Terror and sidekick Tim battling the Nazi's and their recently resurrected "Hannibal's" ancient army, who are attacking our good friends and allies the Russians (still our friends and allies today 😊).
The story in America's Best Comics #7 may be a little corny but the cover is a first-rate patriot cover by Alex Schomburg. The distinguishing feature of the book is the appearance of Adolf Hitler, Benito Mussolini, and Emperor Hirohito together on the cover. They are defiantly facing off against Nedor's stable of heroes. Actually, only Hitler is defiant. Hirohito is hiding behind Hitler, and Mussolini is in a prone position hiding under Hitler's desk – well hold it there. The presence of these three historic adversaries has added considerable value and appeal to this book, pretty much tripling the value when compared to others in this run.
This book, like most Schomburg covers, is hard to find and maybe more so in this title. The CGC Census shows only 24 unrestored graded books led by an impossible Edgar Church 9.6 stunner. You won't be chasing this book anytime soon. Copies of 2.0-6.0 may be holy grail copies of this book, and even in these lower grades will be priced at multiples of guide. The chase for this book will be worth it though, it is with little downside. I would also recommend looking up other excellent (and much cheaper) Schomburg covers in this run, Exciting Comics, and The Black Terror titles as well.
The 48th Overstreet Price guide valuations are 2.0 $326, 4.0 $652, 6.0 $978, 8.0 $2282, 9.0 $3991, 9.2 $5700.
Reasons to buy this comic.
Iconic, and very popular Schomburg World War II cover featuring all three Axis leaders
Difficult to find, but the book has widespread appeal, that should hold and increase value in the short and long-term