Welcome to my first  January 2015 toy collectible report wherein each show I do, I'll give you a little run down of how my show went and even include actual sales.  Please understand any sand-boxing is just my opinion, based on years of attempting to make a living selling toys, comics and collectibles.  Hopefully this will come off as an enjoyable read, and you'll get a good sense of the market from someone without a storefront (as what you can charge in a brick and mortar store is very different from selling at shows).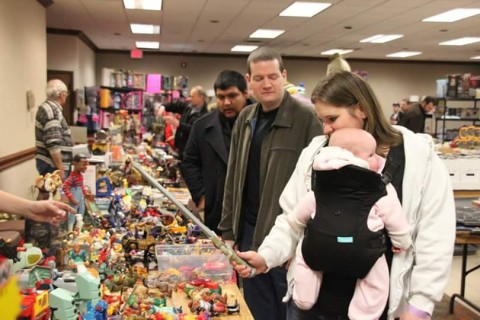 The January Burlington Toy show kicks off the collectible circuit every year.  There are other shows, but really over the past few years I think the Burlington Show run by the tireless Steve Buckley, and the Mississauga show a few weeks later, run by Colin Douglas (who also runs the TFCon every summer), are the two that have become the most worthwhile (from a dealer standpoint anyways).   Well this Sunday's show really did kick it off with a bang!
Usually early bird at 10 is a slow trickle in of customers regardless of the show.   Buyers are savvy and don't want to pay the extra admission costs associated with being an early bird.  I have to tell you though, this show was certainly different.  I found from 10:15 am straight through until about 10:45 am it was non stop.  We got a little bit of a break, and then at 11 (regular admission), we just got slammed.  Collectibles of all kinds were flying off the table and out of the showcase.  Some of my sales of note;
4 different original NES games $110
Amazing Spider-Man 252 CGC 9.6 $170
The Strain # 1 CGC 9.8 $100
Batman Animated action figure of Harley Quinn $25
Commemorative He-Man figure Skeletor $30
Loose GI Joe toys $45
Original LP albums (Stones and Springsteen), sold to former CBD'er Ed Campbell
And on and on it went
Honestly I can't remember the last time I felt this electric at a show, the place was really pumping.  Sadly no Abba started playing the background, but as a dealer, when you're making sales, no matter how tired or how long of a drive it was to get there, you feel good!  And as I walked through the aisles after 2:00 pm, I chatted with a number of guys, I don't think a single guy told me it was a poor show.  The crazy thing about it was there had to be at least 10 fresh faces in those rooms (guys I have never seen before, and I do a minimum of 5 or so shows a year), with fantastic stuff, and there was still enough money to go around (which is rare folks, believe me).  I can't tell you how many times I went into a show with fabulous inventory and then another guy shows up with better stuff, It's just deflating.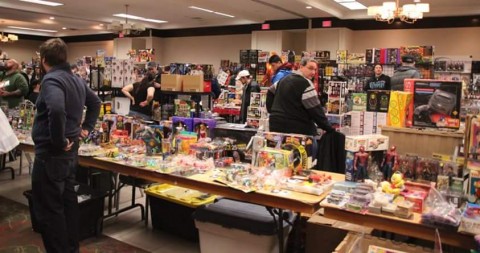 So all in all a great show, happy dealers, happy buyers, some great cosplay, and now I'm full on into action figure expo mode (Feb 1st in Mississauga).  Can't wait, and if I don't see you there, read all about it on CBD!  Pictures courtesy of Dr. Stevil.