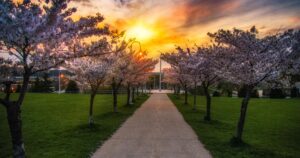 I was hustling around trying to set up my week when I read an email from a friend who reminded me to step back and take a little time to enjoy the Cherry Blossoms blooming in this part of the world. These are fleeting moments, easily missed staring at a screen or worse yet, head low, staring at the ground.
News came out last week that CGC will be raising their rates as of this Wednesday, April 28th. You have to have your order submitted by the end of Tuesday I think and the stuff has to get down to Florida before May 27th I believe. This news comes on the heels of the card grading company PSA suspending all new submissions until July to give them time to dig out of the backlog and to of course raise their rates.
The CGC rate increases are not too crazy, see the new fees here. Moderns went up 10% to $22 and CGC has discontinued the Value tier which used to be $28, they have rolled it into the Economy tier, they have decreased the Economy tier from $38 to $33 so basically, they have morphed the two tiers into one and averaged out the prices. This move does clean things up a bit and simplifies pooling together same tier books for shipping and submission, I like this one.
I don't like the price increase for pre-screen rejects, it's now $8 and it should deter the flood of books coming in for this service. People often forget to factor in the rejection rate for costs of slabbing pre-screens. If you send 20 books down and only 10 get graded you've effectively paid $30 to grade each Modern, not the $22 that shows on the invoice.
Hopefully, these changes, namely the price jumps, tiers combining and rejects costing more will lead to efficiencies and much-improved turnaround times. I'm sure we'd all trade in a small price hike for getting our books back in 8 weeks versus 18 weeks.
So get your stuff into their system ASAP, I have a feeling a lot of us will be doing just that and there will be an extra wait for this week's submissions.
Can we talk about the ICE auctions! We knocked it out of the park on our eBay handle internationalcollectiblesexchange. We set a few records last night including getting the new recorded high mark for this sweet copy of Witches Tales #25. We just pipped the price one received back in January. I thought the book had even more room, it's one of the iconic Pre Code Horror covers out there and on every PCH fan's grail list. Advantage Buyer.