I know a guy who set up at the Toronto Comic Book Show on Sunday: my guy brought good stuff and was hoping to do a few thousand in business to help his cause. He reports that the show was dismal, that he made $150. This is a guy who was setting up with an Amazing Spider-Man #300, a few copies of Batman Adventures #12 etc. He says a few dealers wanted to trade some smaller pieces for his bigger books but he shut that down. He says he didn't rebook, says the last three shows have been getting progressively worse and this one sealed the deal. Now this is just one guy and maybe he didn't adjust his prices down enough to reflect the reality of today's market, I don't know, but he's been at the game a while so I'm more inclined to think things were flat at the show. On the other hand, there have been some positive results coming in from the big auction houses: Amazing Spider-Man #129 at 9.8, Fantastic Four #1 at 6.0, and a slew of other books had strong stable results. Books like 9.8 copies of ASM #300 and Star Wars #1 both kept their results in line with recent results, they did not continue the slide. Not enough data to say we're bottoming out but some good results are always encouraging.
Good thing I was paying attention when I was going through the "headed to eBay" pile, my alertness allowed me to spot and save this copy of Betty and Veronica Annual #7 and divert it over to the PC pile. Betty, I too like it when girls please the boys the old-fashioned way!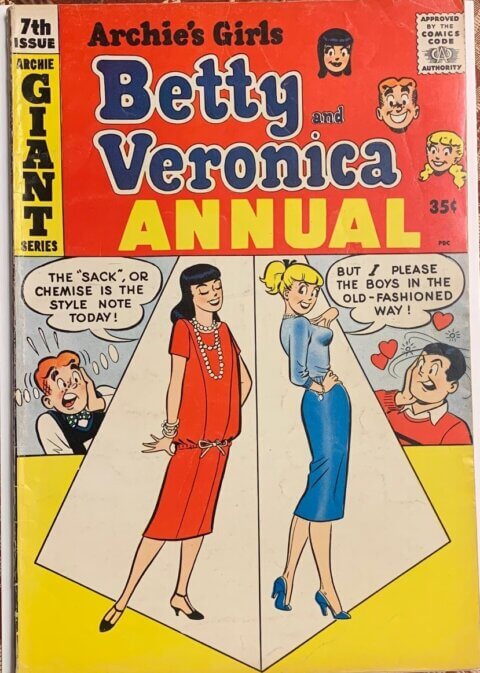 WTF? Is this a real ad? Were they shipping live little dogs to kids across American in 1956? This ad comes from the back cover of Mystery in Space #32, July 1956. The ad says you can keep the thing in a shoe box, the thing is you have to find a whole bunch of new customers for them first, the ad says 20 new customers and you get the dog. Think about how good a salesman you have to be to get these guys 20 new customers. Even if you did get them 20 new customers, even if you did become that good a salesman, you'll never hold a candle to the guy that just sold you this dog! I hope these dogs found good homes.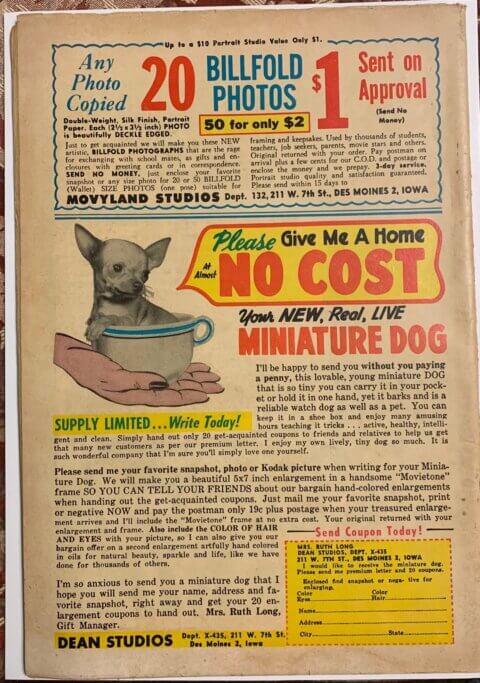 I was leafing through this week's pile looking for good splash pages when I happened on this Bernie Wrightson page from Swamp Thing #9. The layout drew me in and I ended up reading it, then read the whole story! I like the way the background gradually changes from day to night. A page like this shows of Len Wein's craft more than it does Wrightson's but I found the cumulative effect quite rewarding.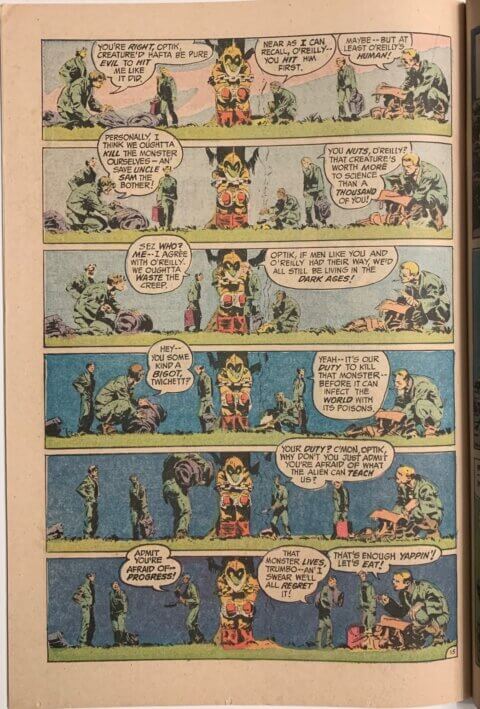 Another round of our weekly icecollectibles eBay auction ended last night and I took note of this X-Men #101 we graded a 6.5, it sold for $360 which I see as a healthy result for a raw copy. We grade our raw books tight; bidders seem to like that.