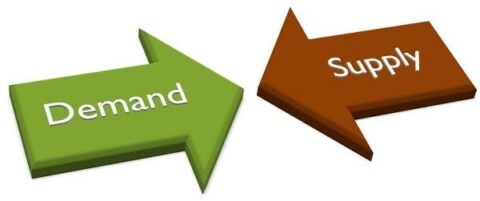 I was talking comics with a pal last week and we were both marvelling at what seems to be the endless demand generating record prices for items we both thought were forever doomed because of their bottomless supply. Books like Spawn #1 are now generating $200 plus sales for each CGC 9.8 posted and there are 8,000 of those and growing.
We called this current market the Demand versus Demand market in defiance of the indisputable Supply versus Demand principle. I brought up Daredevil #1 and Amazing Spider-Man #33 as older examples. I've missed out on a ton of opportunities on these two books. I remember maybe 10 years ago doing some CGC Census studies and deciding to stay away from Daredevil #1 because I thought it is so plentiful vis a vis the other Marvel keys would always make it an also-ran, too common. I also stayed away from high-grade copies of Amazing Spider-Man (ASM) #33 because I remember when the warehouse copies were found, just have a look at the CGC census on ASM #32 and #33, there are 94 copies of ASM #32 at CGC 9.4 or better and there are 202 copies of ASM #33 at CGC 9.4 or better yet they command about $1500 each at the CGC 9.4 price. Even two short years ago in 2019 ASM #32 was averaging about 30% higher. I wish thought up this Demand versus Demand argument way back then, I'd be sitting on a pile of Daredevil #1s.
It is true that demand has never been higher for quality graded comics and it's also true that the supply has never been higher as well so one answer to the ever-increasing prices must be that available supply is falling behind current demand. Is this because most of us use the 3 or 4 major auction houses when we want to buy our comics? Is it that the current supply via auction offered on Heritage, ComicLink, ComicConnect and eBay are not sufficient to meet current demand? I think so. I think we get a little lazy and default to the trusted interfaces these great sites give us. Perhaps joining more Facebook groups or the CGC boards would result in better deals? Note that I specified 'via auction' as we do see a lot of copies offered of say, Daredevil #1 on eBay "buy it now" but at prices even green and wet behind the ears buyers are leery of.
I'm only willing to defend my argument above for the high supply comics. True scarcity is true scarcity, be it scarcity of copies available or scarcity of grade or even scarcity of page quality and these scarce books keep getting stronger and stronger.
At the moment the supply side of the equation is a weaker force than it should be and I think some of this is due to our 'group think', when we are buying, we all seem to be running after the same books at the same time which seems logical given how wired we are to each other via social media. Everything is instantaneous now and it seems many of our decisions are group decisions. Group decisions can stack the deck on the demand side when they are being executed. Back in the day we knew less about what everybody else was thinking and made purchasing decisions more independently of each other.
I'm not sure if I'm getting my thoughts across accurately, as I'm typing and rereading I feel like I'm unable to articulate this the way I want to. Demand is dominating the market even where supply is plentiful because supply is not plentiful at this moment, demand is so dominating because we can now easily unleash the power of group demand within seconds as our community is so connected in real-time, supply has a lag time to correct demand does not.
Now I'm going into loops so I'll cut it there, I could use some help extrapolating this.
Speaking of lack of supply, check out this beautiful copy of My Love #14 we sold last night on the internationalcollectiblesexchange weekly eBay auction. This beauty featuring the Woodstock concert as the backdrop for love is the Giant-Size November 1971 issue I love so much. Some lucky bidder won this price for only $112, Advantage Buyer all weekend long.