I was distracted while writing this post, my mind was on Cups all day long and into the night with the Grey Cup ending, the World Cup starting and um…
The big Heritage Auction that ended November 17 – 20 for me reinforced what most people have been seeing these past few months, namely the heavily traded Marvel keys showing some softness. I was delighted with the prices being realized for the very early 1930s pre-hero comics; their scarcity and lack of trading make it hard to peg trends onto them but the results looked strong. I didn't follow the results but I was told that the Pre-Code Horror books had good results too. I think it's important for the market to have segments doing well during a negative trend: it's like the money is in no rush to leave the hobby, rather it just drifts into different eras and genres.
This week's "destined for the eBay auction pile" was tantalizing and enlightening. For the cover of the week, I'll stay with the cup theme and present Anthro #6 featuring the great Cat Fight cover drawn by Howie Post and inked by the great Wally Wood.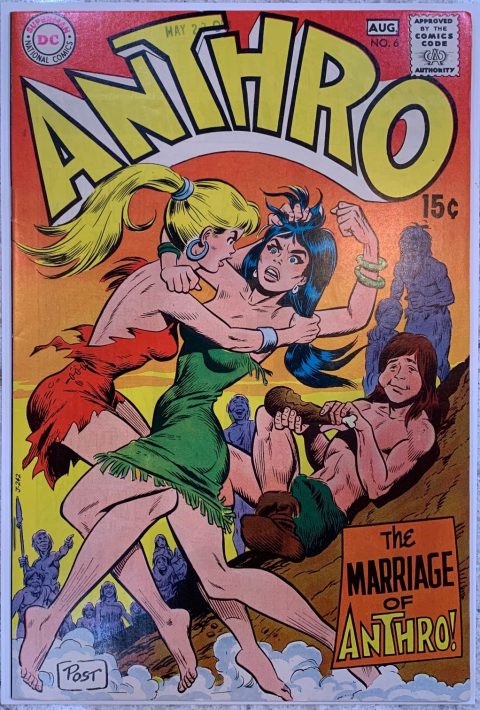 Speaking of Wood, Wally inked this Dan Adkins splash page for THUNDER Agents #6 published by Tower Comics. I'm featuring it as my Splash of the week. It might only be me but I see this and I think Zagreb vs Belgrade!
I'm telling you those No Man, Dynamo and THUNDER Agents titles from Tower Comics in the 1960s can still be had for next to nothing. I wonder if they'll ever catch fire in the marketplace?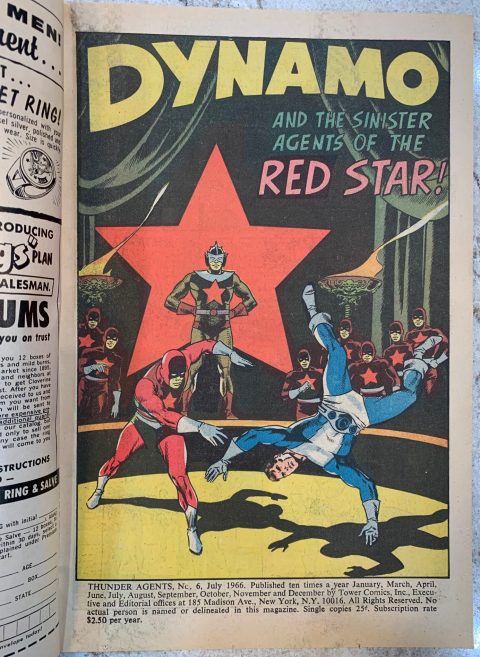 Our ad of the week comes from Mutt and Jeff #20, Winter 1945. We were talking about sports on one of the other posts recently and I thought I'd feature this ad to drive home a point. Who's Don Hutson? I'm not a big sports buff but I don know about the average amount of trivia and sports history and I have no clue who this guy is. The point being, sporting figures age and unless you are an iconic figure like Ruth or Ali you may be eventually forgotten about. Real people age, fictional superheroes and other comic book characters never age. There's always a chance that a forgotten character like say the Collector can be dusted off and made popular again; I'm afraid we can't say the same for old Don Hutson.
While I have you on this page, notice the cleanly cut-out page at the spine area of the book. This comic is not incomplete, back during the WWII era ad pages were cut to save paper. I once had a Golden Age Sub-Mariner I bought off of the great Harley Yee, I ended up taking it back to him after I leafed through the book and saw one of these cleanly cropped pages. Harley let me know what was up and since then I've seen many books from this era with these pages cropped off. It would be nice if there were a list of them so we could protect ourselves with the knowledge as buyers. Maybe there is a list but I'm not aware of one.
While I still have you on this page I have to ask why Mutt and Jeff are worth so little: this is a great Golden Age DC title with some great covers, perhaps they'll break out once I start putting them up for auction!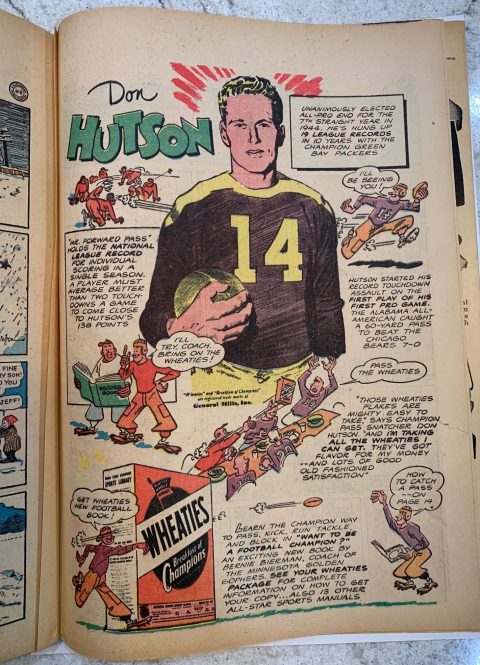 Speaking of sports icons, when I see this comic I get deja vu all over again. We sold this copy a couple of months back but the bidder did not pay so we ran it again once we allowed the proper time to elapse. This time around our very solid copy of Batman #29 got $500 USD on our weekly ice collectibles eBay auction. We realized a little interest as last time it sold for $495. The book had great colour and nice gloss and is structurally sound; a name in pen should not spoil the richness of this book. I say Advantage buyer.