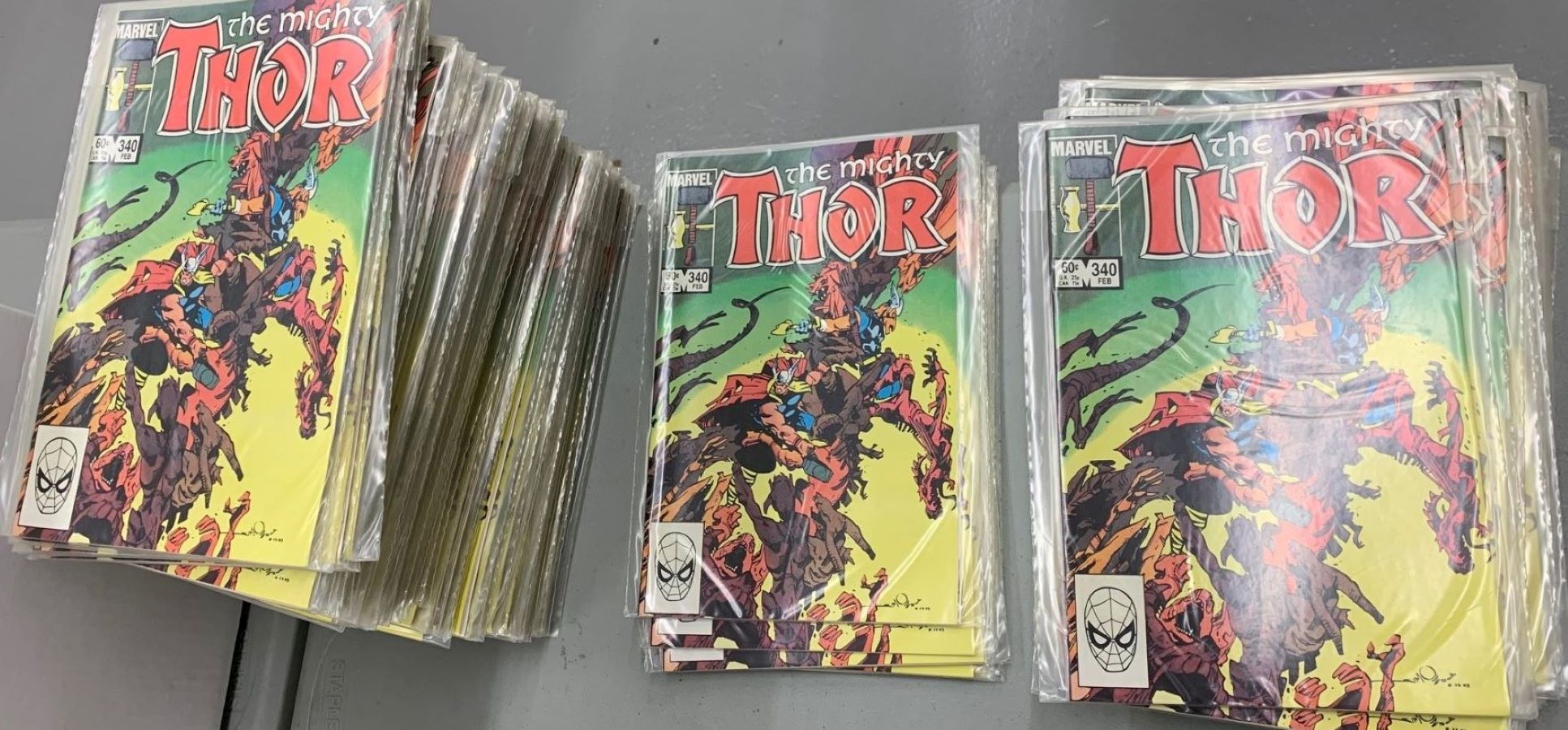 Work continues at our warehouse, the one bursting with over 1,500 long boxes of comics. I'm almost done making my rows using the sequentially numbered boxes used by the previous owners. I can't lie, I find myself opening way too many lids to have quick peeks, this slows my work down quite a bit but it does help save my back. I randomly hit on a box full of Thor's in the #337 era so I got a little excited as I thumbed through.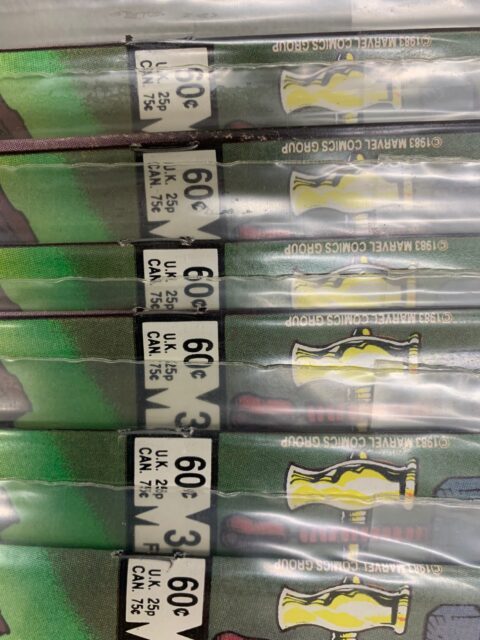 Unfortunately, there were no copies of Thor #337 left but there was a hell of a lot of Thor #340s. I quickly jumped on the GPA and saw the last CGC 9.8 sale at $139, as of this post there were 58 CGC 9.8s on their Census. Cripe, I thought I was going to double the Census numbers for 9.8s with one submission! As I started screening the books I quickly noticed a pattern, about 90% of the books had some sort of damage along the spine at the top staple. Was this storage damage? Was there a problem with this print run at the printing and binding phase? Luckily I found five candidates for 9.8, if three get through I'll consider it a small consolation for this disappointing stack. Now I have to figure out how to sell 100 plus copies of Thor #340 that aren't 9.8s …
This week the goal is to get the rows done, this will allow me to have quick access to any books I'll specifically want to look for and like a kid, I'm still hopeful that I'll spot that elusive box #1192 and perhaps find a few nice copies of Star Wars Clone Wars #1.
Thanks to my Italian connections today I'm stocking my newly bought fridge with some Calabrese salami and some Abruzzo cheese, I've already got a big box of those assorted Breton crackers from Costco, all I have to add is some pepper jelly and I'm off to the races, or most likely a long nap.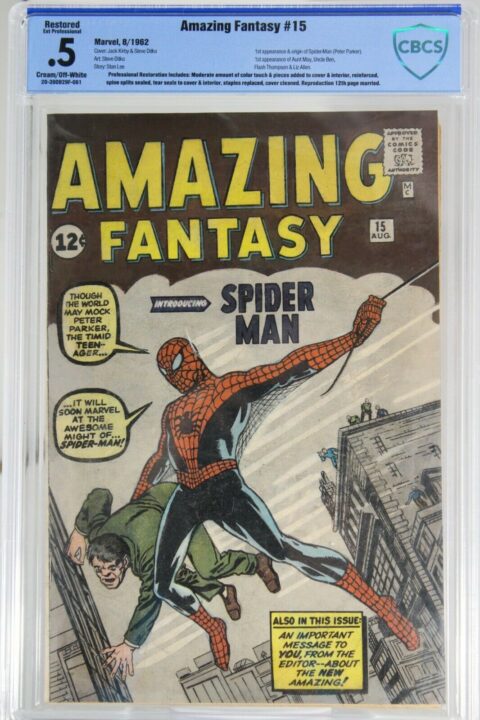 Today I'll post my first of what I hope to be many Auction Highlights. I'll start with an auction that we ran and just ended last night at 10:30 Eastern Time. We ran a CBCS 0.5 Restored copy of Amazing Fantasy (AF) #15, it was restored and missing page 12, which was replaced by a photostat copy. Full disclosure, our break-even point on this book was about $6,875 when we factor in all the fees associated with selling it through eBay and the low subsidized (by us) shipping rate we charge.
When I bought the book profit wasn't my main motive, I wanted to run this book through our auction, I obviously want to run lots of books like this through our auction but as we all know AF 15s and other big keys aren't exactly easy to come by especially not at a price that leaves us something after accounting for all costs. Still, we're trying to play the game hard so we have to continually go for it. Our copy (picture included) sold for $7,458.95 leaving us ahead both in the exposure the book gave our auction and making us a bit of profit.
It seems that in and around $8,000 is the price of a ticket into the Amazing Fantasy #15 club, a CGC 0.5 Incomplete sold for $8,052 back in November 2020, a CGC 0.5 Complete sold for $8,500 a month later in December 2020 and out Restored and Incomplete CBCS 0.5 just got $7548.95. The floor has risen so much on the key but it still remains one of the big three grails in superhero introduction comics, Action Comics #1, Detective Comics #27 and Amazing Fantasy #15. The fact that some of us can still scrape together enough to afford one without mortgaging the house is a good thing.
My call on this is Advantage Buyer, the book shows beautifully, no marvel chipping and has been professionally restored. The option is even there to snag a page 12 off eBay and marry the book into a Married but Complete copy, opening the door to a much higher grade.