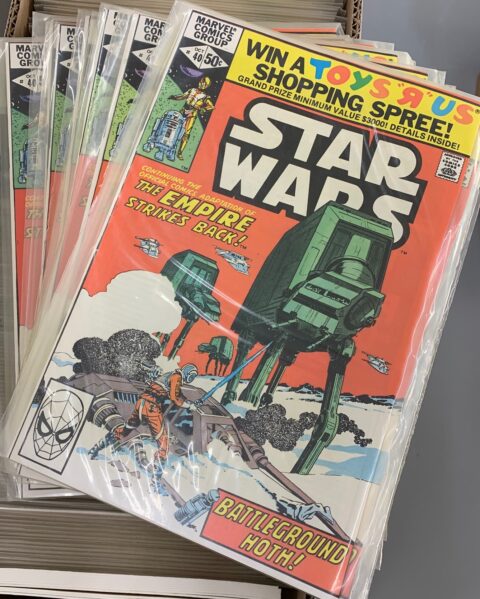 We are in one hot back issue comic market at the moment. A couple of months ago when I was sending my first batch of Star Wars comics from the warehouse collection down to CGC for grading I was trying to find 9.8 candidates as for most of the issues in the Star Wars run prices at CGC 9.6 were not worth the cost of shipping and grading, and sometimes pressing.
That first batch is down as CGC at this moment and like I said above, almost all are down at 9.8 pre-screens. Pre-Screening is a service CGC offers at a cost, so you send say 10 copies of a book and tell them to only grade the 9.8s, they have a look and perhaps grade 7 of them at 9.8, the other 3 did not pass the pre-screen and are sent back to you ungraded, you are charged $5 for the service. The math behind pre-screening is that it is better to pay the $5 not to get it graded than the $20 and extra shipping to get it graded if the CGC 9.6 prices are low in the marketplace.
When I was looking up Star Wars #40s, a couple of months back, CGC 9.6s were getting $75 and I was trying to keep my grading restricted to books that could get over $100. Fast forward a couple of months and I see the last CGC 9.6 Star Wars #40 got $225!! Ditto goes for #84, #6 and a whole slew of others, Star Wars #6 was getting just over $100 a couple of months back at CGC 9.6 and was a judgment call, the last CGC 9.6 sold a few days ago for $309.
It looks like I'll be re-visiting those Star Wars boxes and doing a CGC 9.6 pre-screen submission to CGC really soon. It's crazy how hot the market is right now, especially for Star Wars.
We're now over a month into our bigbcomics.com Vintage Comics section and it's been doing well. I'm trying to figure out a more streamlined method to get the books up and available, I thought of using a generic photo for the issue and just recording the differing grades but I know as a buyer I'd want to see the actual book I'm buying. I have to look into auto crop software for the pictures as cropping each picture takes time as does naming them and actually physically taking the photos, maybe a scanner will be quicker. I have to make decisions fast as the Vintage Comics section of the site is working and it will only be hindered by our lack of ability to post stuff. A good problem to have I guess but still a logistical issue to solve if I want to dig deep into those countless warehouse comics.
Auction Highlight
Last night our ICE eBay auctions did great, we set a couple of new highest recorded sales records. We set one of the new records for a solid-looking copy of Journey Into Mystery (JIM) #85 which features the first appearance of Loki, Heimdall, Asgard and Odin, and it's the third appearance of Thor. JIM #85 is a heavyweight Marvel key from the early, early days of 1962. The CGC census shows that this copy is among the top 660 copies graded by CGC, that's some pretty good scarcity for a book this key, I think CGC 4.0s will be $2000 soon enough, Advantage Buyer.