Canadiana Auction update. Back in 1980 three young Canadians drove down to the Marvel offices in New York to pitch an idea they had for Marvel's popular What If… title. Our boys Jim Waley, Gene Day and Vince Marchesano came up with this great concept of having all the Fantastic Four characters possess different powers: Sue was the Thing, Ben was the Torch, Reed was invisible and Johnny was Kid Fantastic. They pitched the idea to the Marvel offices; I asked Jim and Vince if they got to meet Stan Lee and they said he was not in the offices so they met with someone else. Below you see the concept art that was pencilled by Vince and inked by Gene. Unfortunately, the idea was rejected but the guys had a good story to tell. The story got even better when a short time late Marvel pulled something similar with the FF, sneaky buggers. Still, I think that had Stan Lee been there they would have at least walked away with three No Prize envelopes each with Excelsior! written on them.
This beautiful piece is going up on the Canadiana auction scheduled to start later this week.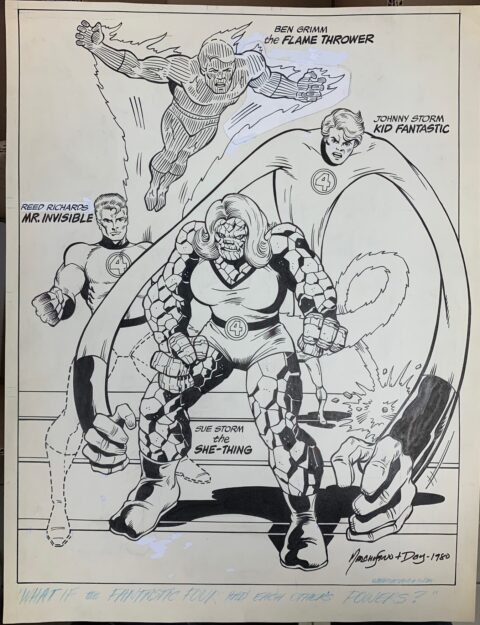 The cover of the week comes from our "destined for the eBay auction" pile. Jack Davis works his chaos magic on Mad #2. When you think of it, here we have a hybrid of sports, humor and pre code horror all on one cover. EC fans were spoiled with that great stable of artists they had, it was all certainly of a time, a very brief but artistically fruitful time.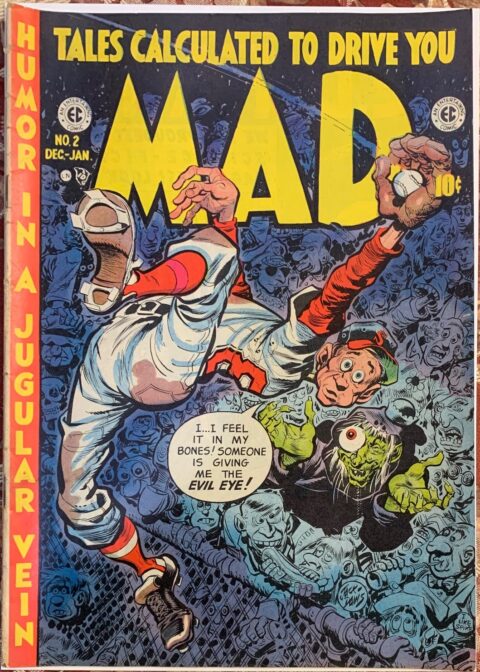 Our Splash Page of the week comes from an artist I don't remember commenting on before, though I may have and simply don't remember. Don Perlin's Werewolf meeting Tigra with the Hydra symbol behind them has that little extra kick I like. The splash comes from Giant Size Creatures #1 which is the first Tigra appearance. I'm a sucker for art from this early Bronze Age era; these would have been some of the earliest comics I would have had access to and I guess that impression never leaves you.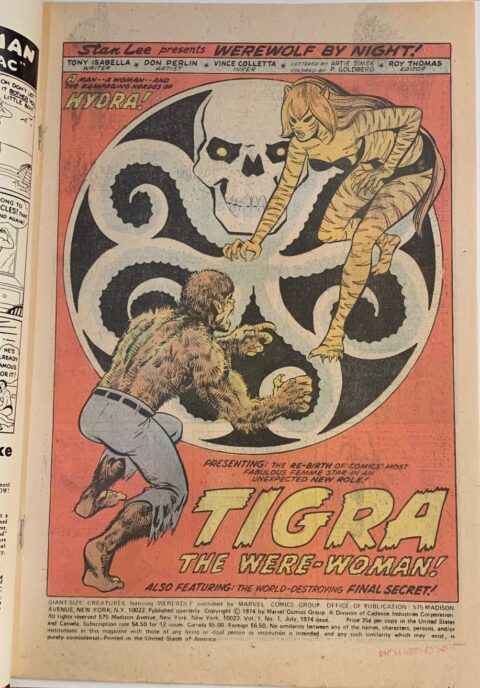 Our ad of the week comes from the inside back page of Blackhawk #65, back when it was still with Quality Comics. First off, I play guitar but so poorly I doubt neither Lonnie Glosson nor Wayne Raney could have helped. Wayne Raney looks like he came right out of a studio session with Bill Monroe and his boys. This ad got me to thinking that back in those days there were so many publishers that not all advertisers could have afforded to run ads with Marvel, Atlas, Quality, ACG, EC and all the others. I'm sure ads like the Charles Atlas beach ad ran with all publishers but more obscure ads like this one had to pick their publishers and run within their stable of titles. I'm sure advertisers knew the age/gender demographics to a point where they could make a more informed decision on how to use their ad dollars to read their target market, obviously aspiring musicians loved reading Quality Comics.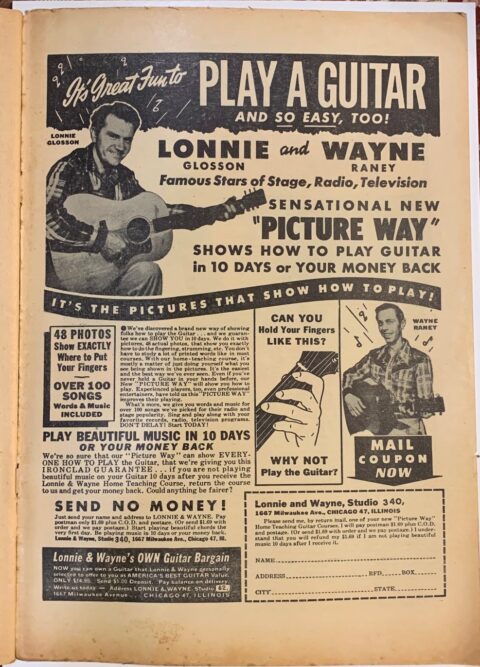 Another weekly icecollectibles auction on eBay finished up last night. I was watching to see what those Marvel Clippings would go for: they ended up fetching $36 USD. I think this is a fun lot to win, I'm not sure what the winner will do with these but I'm sure he or she will love having them. Maybe the winner will try to amass a collection of these clippings, I hope they catalog all the clippings they collect. I wonder what that pile of a few hundred actual Marvel comics would be worth, let's say, in an average grade of 5.0 to 7.0 condition.