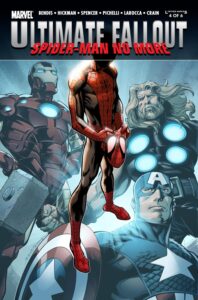 What the heck is happening out there? It seems big Marvel Keys are setting record prices every time they go up for sale. No, I'm not talking about the early 60s Marvel Keys, nor am I talking about the relaunch keys of 1968 nor the classic Bronze Age keys like ASM #129 and Hulk #181, I ain't even talking about the Copper Age Keys like She-Hulk and ASM #238, nope, I'm talking about the post year 2000 Marvel Keys!
Ultimate Fallout #4, August 2011 – first Miles Morales, Edge of Spider-Verse #2, September 2014 – first Spider Gwen, NYX #3, February 2004 – First X-23 are three easy examples but there are others.
I'm feeling very very disconnected to these books, I've had scores of them over the past several years and I couldn't wait to unload them thinking they'd be sinking in value within weeks. I could not have been more wrong.
All prices below are for CGC 9.8s.
Ultimate Fallout #4 featuring the first appearance of Miles Morales as Spider-Man could not be hotter, in 2018 there were 263 sales that averaged $262 per sale, the latest 90-day average is $868 over 151 sales, the last sale was $1,175.
Edge of Spider-Verse #2 featuring the first appearance of Spider-Gwen is another hot key, in 2018 there were 216 sales that averaged $336 per sale, of the last 20 copies that sold only 1 dipped below $800, the last sale was $929.
NYX #3 featuring the first appearance of X-23 has actually had its day a few years back, over the last 2 years it has been slowly losing ground until recently that is, the book looks like it is charging back with the last sale of $1000 putting it over its high $914 average over the year 2018.
So what gives? Is it all the COVID money needing to settle somewhere? I know what it's not, it's not older collectors like me or even guys 20 years younger than me buying these up, this has to be new fans rushing in to get what to them are the important Marvel Comics of the moment and perhaps of the future.
I remember buying long boxes full of books like Nova #1 and She-Hulk #1, dealers holding that stuff had zero feeling for the books and even less faith that they'd be worth something one day. I in turn was more than happy to peddle them at $10 to $20 each thinking I'm the smartest guy in the world, turns out I had no faith in them either. This is a cautionary tale repeated generation after generation and it seems I did not learn the lessons history was trying to teach me.
Can these books turn into the new Hulk #181s? The new Amazing Spider-Man #300s? Is there still time to grab them before they hit their peak?
We have to remember that relative scarcity is built into these books thanks to the era they were printed in. The NYX #3 had a print run of 40,000 copies, the Ultimate Fallout #4 print run was around 73,700 copies and the Edge of Spider-Verse #2's print run was below 55,000 copies. As of this post on the CGC census in the Universal 9.8 grade, there are 1,758 copies of Ultimate Fallout #4, 1,752 copies of NYX #3 and 2,137 copies of Edge of Spider-Verse #2.
The census numbers above can be used to compare, A CGC 9.2 Amazing Spider-Man #129 puts it within the top 2,000 copies and it sells for around $2,000, a CGC 9.0 copy of Hulk #181 is one of the top 2,400 copies and it sells for over $5,000.
Have I got it wrong? Is this just another speculative spike or are these here forever? I think I'll have to start respecting the keys the new generation of readers and collectors gravitate towards, I've ignored them so many countless times and now I see it was at great cost.