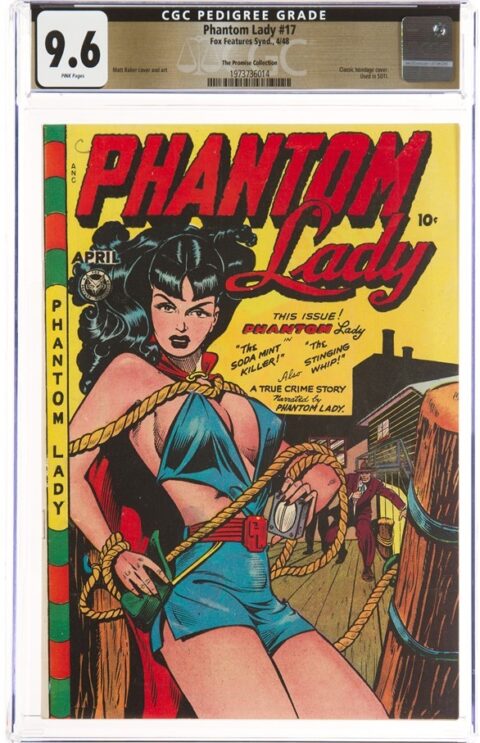 Comic Book Daily supporter Alex Sorensen has been kind enough to give us another post for us to digest. Last time Alex did some great work on the Atomic Age and this time he tackles the Promise Collection. Let's pass things over to Alex.
The Promise Collection (Junie's Collection)
The following is my perspective on the Promise Collection pedigree and the recent auction of 6% of the entire collection.
By now many of us have heard of the Promise Collection and the story of Junie and Robert and the amassing and preservation of over 5,000 comics.
The first 300 of these comics were hammered in mid-June 2021 at Heritage Auctions. 
The results were amazing, to coin comic vernacular.  Of the 300 comics auction, about 196 were the highest known graded, plus about 15 which were tied for highest known graded.
The Promise Collection comics sold at Heritage spanned from Spring 1943 to early 1951.  This era ties in with the end of the Golden Age and the beginning of the Atomic Age.  Recent Promise comics being listed for Junie's second auction go back to 1940, but with lesser grades, letting me believe that Junie got these from someone or he bought them at a second-hand store.
The Promise Collection illustrated the demand for high-grade comics in almost any genre.  By all means, the usual comics did great such as Phantom Lady 17, Detective Comics 140 and Cap 74.
The top percentage gainers among higher valued comics for nm-9.2, from my conservatively valued list, prior to auction to post-auction were Cap 74 – 144%, Phantom Lady 23 – 68%, Tec 114 – 67%, Eerie Comics 1 – 63% and Tec 149 – 53%.
I would add that my pre-auction estimate for Tec 140 cgc9.6 was $330,000, but I was afraid to say it as I thought this was way too high.  Hammered at $456,000!
Where the Junie's set a highest grade sale record the lowest priced comic was the Archie Comics 11 cgc8.5 at $3,120.  Archie had four of the seven lowest high-grade sales. Next auction buy Archie.
My rolling five and ten-year percentage gain for all my listed comics prior to, and post-auction respectively was 55%, it is now at 64%, the ten-year gain was at 125%, now 139%.  All of this after one auction with a limited amount of comics.
The big demand and resulting sales realized stems from a lack of high-quality comics coming to auction.  Look at the Edgar Church copies of USA Comics which sold circa 1985 as a lot.  Since 1985 USA Comics 13 was available at a grade of about fnvf7.0. (USA 13 has four comics between 8.0 and 9.0) Junie's comic shows up at a nm+9.6.  Yes, $31,200 USD seems reasonable.  We have seen high-grade comics sell for high amounts in the past.  See Fantastic Comics 3 or Suspense Comics 3.  Also, see the Church copies of Pep Comics which sold in 2016 and the sales of high-grade comics early on in the slabbing era.  Nowhere near this scale, though.
Detective Comics 134 will be up for auction next go around.  Checking historic sales from Heritage a cgc9.0 sold for $956 in 2007 and this issue has stayed flat since then.  A cgc9.6 copy sold in November 2020 for $13,200. The highest grades will always have a premium.
Is Junie's USA Comics 13 worth 2.36x more than Detective 134 in cgc9.6. Absolutely.
Until the hidden 1980s era Edgar Church copies are slabbed, we will not know which pedigree has the higher grade.
When the Junie's were not the highest graded and there had been recent similar grade sales results the Junie's fit well in the midst of these results. Not that far out of the ordinary.
The Junie's are easily the second-best pedigree in comics.
Looking forward to the next auction.