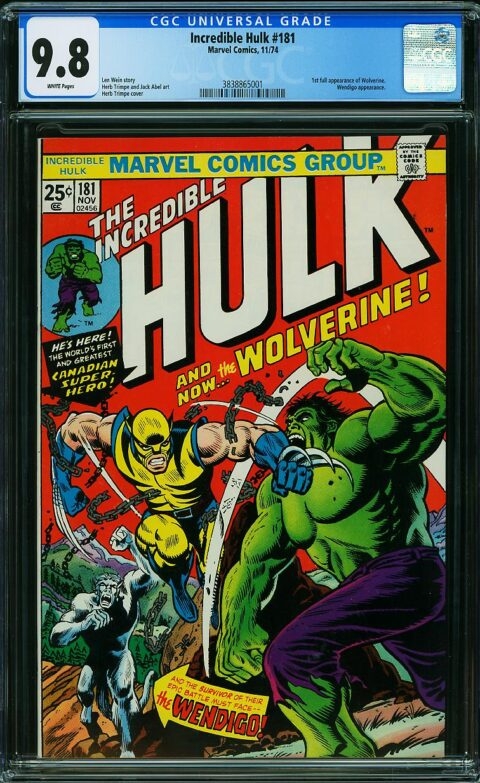 The ComicLink Auction is closing this week but many of the big books that I was watching with interest have already closed. Last week we had a rare closing of a Hulk #181, Giant-Size X-Men #1 and Amazing Spider-Man #129 all at CGC 9.8 and all closing in the same auction, ComicLink has it going on!
Traditionally these above books have been the big three Marvel Bronze Age keys, books like Marvel Spotlight #5 and to a degree X-Men #94 outperform the big three because of their scarcity at the CGC 9.8 grade, the Spotlight #5 at CGC 9.8 sold for $264,000 because there are only four copies at the 9.8 grade.
Back to our big three, as I said above it's been a while since I've seen all three of these go up at CGC 9.8 in one auction, I paid attention because this should be a good market test to see just how hot things are.
Turns out things are pretty cool when it comes to these three books. I should correct that and say two underperformed and one did very well but still below some peoples (including mine) expectations.
Amazing Spider-Man (ASM) #129 CGC 9.8 with Off-White/White pages sold for $22,000, well below the $40,800 GPA posting from June 2021. I should note that the June sale had White Pages.
Giant-Size X-Men (GSZ) #1 CGC 9.8 with White Pages sold for $42,111, again well below the three recent sales of $60,000 (4/21), $72,000 (6/21) and $49,200 (7/21).
Incredible Hulk #181 CGC 9.8 with White Pages sold for $86,000, easily beating the previous recorded sales of $45,500 (3/21) and $59,500 (2/21). Interesting note that these two older sales both had Off-White/White pages.
Yes, the ASM #129 and the GSZ #1 look like they badly underperformed and I think that is what they did, there is still lots of upside for both of these books, these were bargains so Advantage Buyer.
The Hulk #181 set a new record (versus recorded results) but it was a White Pager with six months of pent up demand, I'm still thinking this book cracks $100 K so advantage buyer here as well.
Can we put it down to it being the late summer auction? As I mentioned in a recent post people believe the summer auctions always underperform. It will be interesting to see what next sales of these three books get, the ASM #129 is due for a big bounce back and the Hulk #181 should do well just to shore up this sale with a similar result. Has Wolverine been cast yet? Have the big announcements come out regarding the X-Men team? Will Punisher be prominent in the MCU movies? These are huge properties for Marvel with millions of fans, they will do things right and these three books will continue to grow in their stature as Grails.
Well I didn't have any grails up on our internationalcollectiblesexchange weekly eBay auction but I do want to highlight a sweet CGC 9.8 copy of Amazing Spider-Man #299 (maybe it will one day be a grail if it could ever push out that imposter that is #300!). We sold it for $985 which is well above the last sale and just above the 90 day average. Acceptance of this book being much more than a cameo is growing, this price will seem a bargain soon enough, advantage buyer!