A few days ago I ran into the landlord at the warehouse: he asked me if I'd be renewing in November when my lease was up, I said most likely and that I'd be letting him know very soon. When he left it dawned on me just how quick those two years have gone by and it also dawned on me just how full and cluttered the warehouse has become. I have close to two thousand comic boxes scattered everywhere, I also have something close to one thousand toy and card boxes crammed in there as well. I quickly realized that as a shop we've done a good job buying collectibles these past two years and we've done a terrible job of establishing a sales outlet with enough flow to at least keep the warehouse stack levels down to a more civilized and manageable point. It looks like job one going forward will be to throw some resources at getting this massive inventory to market. I've reversed the old saying of how an army is only as strong as its supply lines: I'm loaded up, I just have to start firing these things off into the marketplace. I'll touch back every now and again with a quick progress report.
Next week I'll be putting a Marvel Treasury Edition #1 onto the icecollectibles eBay auctions. For me, this is one of the most iconic images of Spider-Man, ever. For me this Romita rendering is the definitive Spidey look; I used this image for my outside sign at the Niagara Falls Big B Comics shop. All that aside, this has to be in the top two treasury editions? The Superman Ali and this one, which is the more sought-after? I've seen way more of the Superman versus Ali's up for sale these past couple of years so it will be interesting to see how this does.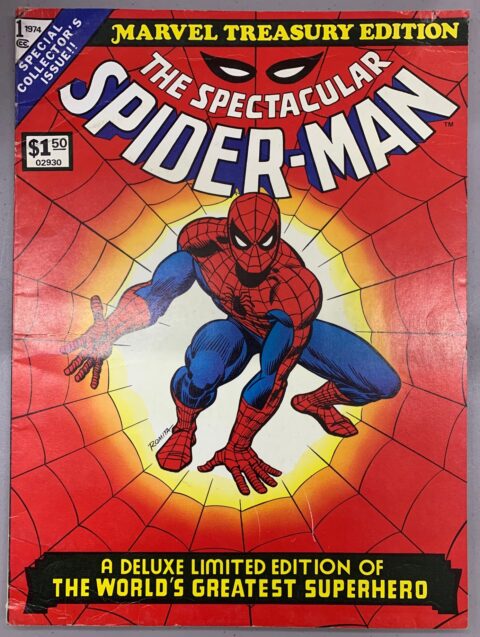 I'm going to add another great cover because I can't not put this one up! Marvel Comics Super Special #1 from 1977 featuring the wraparound cover with Doctor Doom on the back. This is the famous issue that has drops of all the bandmembers' blood mixed into the ink. Cool!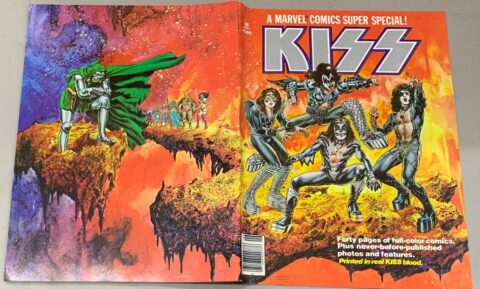 So it's 1970 and you're a kid reading comics, you just finished reading DC's new launch, From Beyond the Unknown #1. You get to the last page to see which cool gadgets you can buy and which great contests you can send in to in hopes of winning a new bike, some binoculars and maybe even a … college scholarship. Obviously aimed at mom and dad, I can't see any self-respecting kid thinking that far ahead and the very few that did are most likely retired CEOs at the moment. I always hated those kids.
I doubled up the covers so why not double up the ads! This time it's an in-house Marvel ad from Fantastic Four #13. By March 1963 Fantastic Four had caught some good traction and was quickly establishing itself as the flagship title of the Marvel Comics Revolution but inside there was an ad promoting two of the most important comic books ever published, Amazing Spider-Man #1 and Tales of Suspense #39, the later introducing Iron Man who later became the catalyst and central figure of Marvel's cinematic universe of 2008 to 2019 and the former launching the most important title that exists in the comic book collecting community. I wonder if the kid looking at that ad could even fathom how bright the future was for those two heroes.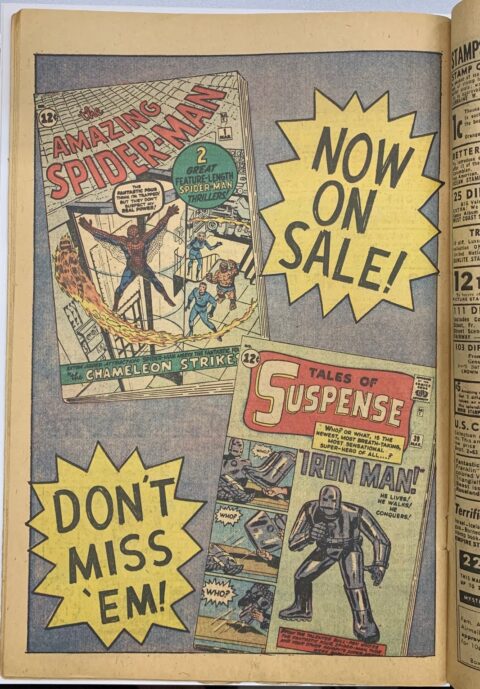 Last night's icecollectibles weekly eBay auction produced some big sales. One smaller sale that impressed me though was this raw low-grade Hero for Hire #1 selling for $177.50 USD; the book boasts the first appearance of Luke Cage and by the looks of this result people are still trying to land themselves a copy.