A reminder that Comic Culture this Wednesday will feature our annual Poem Off, Chris Owen and I will read Valentine's Day poems written by superheroes. We might even be joined by our legendary producer Shekky Fendstein.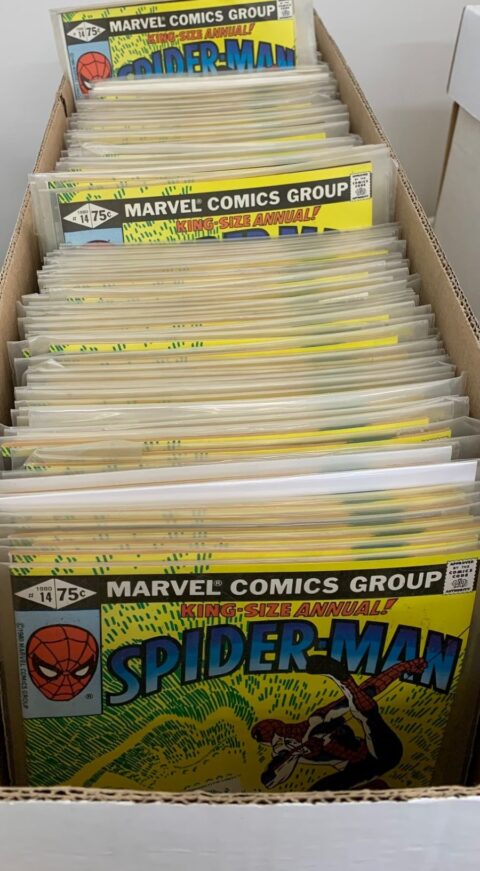 Work continues at the warehouse and I'm starting to get an appreciation for complete sets. I was working through the Spawn comics and notices that #1-5 are not there but we had multiples in the #6 to #14 and then again with #21 to #30. Spawns are way too labour intensive to sell online as single issues so I think I'm going to try to sell them as little runs like Spawn #6-#14 Complete and then Spawn #21-#30 Complete! This way the listing can have some monetary value to it and the buyer can enjoy getting an unbroken run. I'm not sure how it will go but I'll give it a shot.
I'm sensing more and more that this warehouse project will be about listing quickly and efficiently but also about bundling into digestible and desirable runs and sets, they don't even have to be from the same title. I'm thinking of finding all the – say – 9 issues that make up the Fall of the Mutants from X-Factor, X-Men and New Mutants, or even the 6 issues that make up Kraven's Last Hunt in Amazing, Spectacular and Spider-Man. I think I'll have to get even more creative than that and tie themes together that are less obvious because there are so many books here that will simply not sell on their own.
The good news is I think I'm going to come up with some funky combinations, books that you'd think don't go together except for one not so obvious factor that ties them together. I'm hoping that once people realize the binding factor does indeed make sense they won't be able to resist. Me – "How about all the Marvel Annuals with Yellow covers"? Everybody else – "Walt that's a terrible idea" !! OK so obviously I have my work cut out for me.
Auction Highlights
Last night on our eBay auctions (internationalcollectiblesexchange) we sold a CGC 4.0 Off White Pages copy of Amazing Spider-Man #15 for $960.18. It was a great result, the highest price for the book in this grade this year and the second-highest realized price ever according to GPA. The book got good buzz thanks to rumours that Keanu Reeves was set to play Kraven, the rumours appear to be false but no matter, someone will play Kraven, a Spidey villain deserving of a higher ranking among the long list of great Spidey Villains.
I think almost all Spider-Man comics below #129 are undervalued and the ones under #20 even more so. Early issues featuring first appearances of key villains will look like bargains at today's prices two years from now. Advantage Buyer.