Fantastic Four #1,  Marvel Comics,  November 1961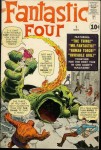 There's been a lot written on what is the most important Silver Age comic book. For many years DC's reintroduction of the Flash in Showcase #4 reigned as the Silver Age's most important and most expensive comic book. Though I obviously disagree I'll not continue the argument here but I will praise the merits and credentials of Fantastic Four #1.
In my humble opinion Fantastic Four #1 is the second most important super hero comic after Action Comics #1 (Action #1 is simply the most important comic book period and is so far ahead of any comic picked second that it's not even worth discussing). Much like Action #1, Fantastic Four #1 changed everything. And much like Action #1, Fantastic Four #1's success fuelled a sustained period of incredible new character creations. In the same way Batman, Captain America, Wonder Woman and all the others owe their existence to Action Comics #1, Spider-Man, Hulk, the X-Men, Iron Man and all the others owe their existence to Fantastic Four #1. Going one step further it could be argued that the super hero comic format had gone stale by the early 1960s. What future was there for an industry mired in hokey and lame storytelling? The multi billion dollar super hero industry of today may owe more to Fantastic Four #1 than to any other comic book.
Much of Action Comics' value is carried by the comic books' historical significance. One could say that Batman has become much more popular than Superman yet Action Comics #1 is still more valuable that Detective Comics #27 (1st app. Batman). I mention this to note that while Amazing Fantasy #15 (1st app. Spider-Man) is more valuable than Fantastic Four #1 this is due to the fact that Spidey is much more popular than the FF and if we used the Action/Detective scenario perhaps FF should be worth more. I will admit that Superman is closer to Batman's popularity level that the FF are to Spidey's and I'll also admit that Action #1 is untouchable in its importance. Still, there is room for my argument that the importance of Fantastic Four #1 must keep it at least close to the value given to Amazing Fantasy #15.
Scarcity, mainstay characters, comic gods as creators, catalyst for a comic revolution are a few of the points that give Fantastic Four #1 even more room for value growth.
The Overstreet Price Guide shows $5,100/$16,000/$34,000/$52,000 as the 6.0/8.0/9.0/9.2 price splits.
Strengths that make these comic books a good long term investment are:
– Arguably the most important Silver Age comic book
– Truly rare in high grades with only 8 attaining a universal CGC grade of 9.0 or better
– 1st comic co-created in the 'Marvel Method' by the giants Jack Kirby and Stan Lee
– A title still in print today
– Mainstay Marvel characters that will always be promoted by the company
 Walter Durajlija is an Overstreet Advisor and Shuster Award winner. He owns Big B Comics in Hamilton, Ontario, Canada