Incredible Hulk #144, Marvel Comics, January 1974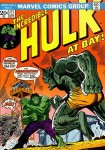 One of the best Bronze Age Marvel runs lies within the Incredible Hulk title.  Issues like #141 (1st Doc Samson), #144 (Doc Doom battle cover), #161 (Beast battle), #162 (1st Wendigo), #172 (Juggernaut origin) and not to mention Wolverine's appearance in issues #180 – #182 are all highly prized by collectors. Hiding amongst these standouts is Incredible Hulk #171, an issue that never seems to be in the dealer's bins even though the guide does not single it out in any way. The cover is awesome and features Hulk caught between a charging Rhino and a charging Abomination. The color is a vibrant red that make high grade copies of this comic book look truly spectacular.
The Overstreet Price Guide shows $11/$16/$20 as the 8.0/9.0/9.2 price splits.
Strengths that make this comic book a good long term investment are:
– Embedded in one of Marvel's most collected Bronze Age runs
– Classic battle cover just cannot be passed on by all the battle covers collectors out there (there are lots of battle cover collectors out there)
– Important principle character (Hulk) and both villains (Rhino and Abomination) are still relevant and will continue to be for the long term
– Relatively cheap price point gives this comic book a lot of room to appreciate in value over the long term
 Walter Durajlija is an Overstreet Advisor and Shuster Award winner. He owns Big B Comics in Hamilton, Ontario, Canada