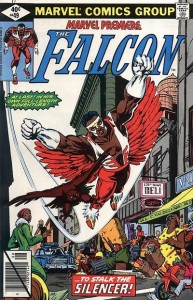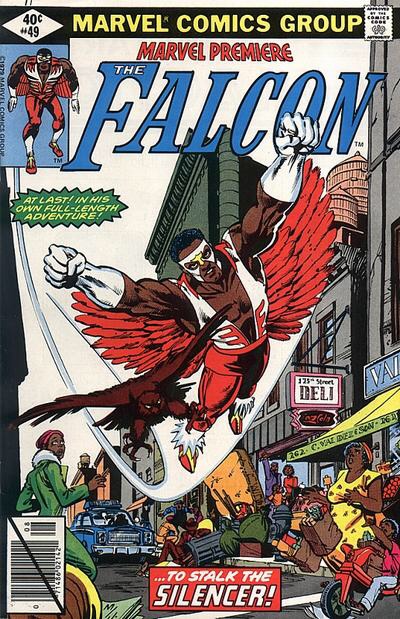 Marvel Premiere #49, Marvel Comics, August 1979
That Marvel Premiere sure does have a lot of good books. The run features important appearances of Warlock, Doc Strange, Iron Fist, Legion of Monsters, Ant-Man, Alice Cooper, Dr. Who and more.
One of the 'more' books is the feature of this week's Spotlight, it's that cute little sleeper Marvel Premiere #49.
According to the Overstreet Price Guide the book features the Falcon's 1st solo story.
The great cover boasts and early collaboration of Frank Miller art and Klaus Janson inks (they had just launched into their Daredevil run with #158 three months earlier, who knows if they had a sense that their work on the DD run would change comic book history).
Inside we have the mighty Sal Buscema laying down some great pencils on Mark Evanier's 17 page Falcon story, "Sound of the Silencer".
The  Falcon of course was the socially significant and very timely creation of writer Stan Lee and artist Gene Colan, he 1st appeared in Captain America #117 (Sept/69) becoming the 1st African American super hero in mainstream comics. The character was an instant hit.
This book is very cheap at the moment, obscured behind all those big issues the Marvel Premiere run has to offer. A good time to buy maybe?
I like Marvel Premiere #49, I think it will see a solid and sustainable increase in value as the book makes its way on to more and more want lists.
Marvel has announced plans to make Falcon alter ego Sam Wilson the new Captain America in an upcoming comic series. If nothing else this should raise Sam Wilson's stock in the Marvel U though I'm not sure what is to come of the Falcon.
Captain America #117 has priced itself out of most of our budgets though so we should look to grabbing some quality Falcon material on the cheap.
Again Marvel Premiere #49 is just what the doctor ordered, it's in that late Bronze Age so overlooked for years, it delivers a Frank Miller cover, it features the Falcon's 1st solo story and it can be had for peanuts.
The 44th edition of the Overstreet Comic Book Price Guide shows $6/$8/$10 as the 8.0/9.0/9.2 price splits.
Strengths that make this comic book a good long-term investment are:
1st solo Falcon story
From that late Bronze Age giving us so many great new books to collect
Frank Miller cover
Very very cheap