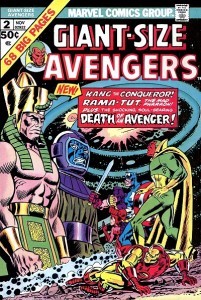 Giant Size Avengers #2, Marvel Comics, February 1975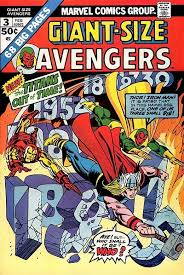 I was looking of a New Year's themed book this week in honor of the big event. Thinking in pictures I remembered Giant Size Avengers #3 as a great cover and I remembered it was part of a big arc. I thought it was a safe pick because to me most of the Giant Size run is undervalued especially the issues offering up original content.
Of course as soon as I started to dig a bit I was reminded that while Giant Size Avengers #3 is smack dab in the middle of the big Celestial Madonna story arc it isn't the book I'm looking for. While Giant Size Avengers #2-4 make up parts 2, 6 and 10 of the epic 10 part Celestial Madonna Saga (that also includes Avengers #129-135), the pivotal book in this arc and the book that I'm looking for has to be this week's Undervalued Spotlight pick, Giant Size Avengers #2.
Giant Size Avengers #2 features the death of the Swordsman. The Swordsman dies protecting Mantis who is revealed in this issue as the Celestial Madonna. There's too much to write about this intricate plotline, suffice to say that the Mantis/Celestial Madonna character is beyond well conceived and is well worth owning.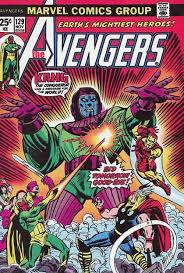 The Celestial Madonna Saga is classic Marvel Bronze Age and is highly collectible, just look at that Kang cover on Avengers #129 (the arc's 1st issue). It's a great arc centering on the underappreciated Mantis character and it's an arc worth collecting, luckily none of the comics in the arc are too pricey and in my view the bargain of the lot is Giant Size Avengers #2.
The 44th edition of the Overstreet Price Guide shows $25/$40/$55 as the splits at the 8.0/9.0/9.2 grades.
Strengths that make this comic book a good long-term investment are:
First appearance of Celestial Madonna (Mantis)
Very collectible Avengers era
Pivotal issue in a classic Bronze Ace Cosmic Marvel arc