The Beatles, Dell Publishing, Sept-Nov 1964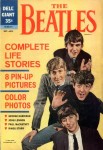 The Beatles were hitting it big in 1964; they were truly changing the musical landscape. Dell comics tried to cash in on their popularity by printing The Beatles in late 1964. At 72 pages Dell went with a 35 cent cover price to offset the extra pages and the cost of adding color pin ups of the Fab Four. Sales were dissapointing. It seemed the price was a bit too high for a comic format that had established 10 cents as the standard price. The comic is now considered scarce.
Today, over 45 years later, the Beatles are as big as ever. Most of their music is timeless (and really really good) and each generation has embraced it. Last year Beatles Rock Band became one of the biggest video game launches in history. The Beatles ability to become the property of every generation shows no signs of fading. The Beatles are truly here to stay.   
The Overstreet Price Guide shows a $312/$581/$850 split at the 8.0/9.0/9.2 grades.
Strengths that make this comic book a good long term investment are:
– Ripe to be discovered by today's investors, many of whom will be fans
– bridges music, pop culture, nostalgia and comics
– Published in a very collectible era
– Photo cover Dells are strongly collected
– The Beatles will always be considered the greatest rock band of all time
Walter Durajlija is an Overstreet Advisor and Shuster Award winner. He owns Big B Comics in Hamilton, Ontario, Canada