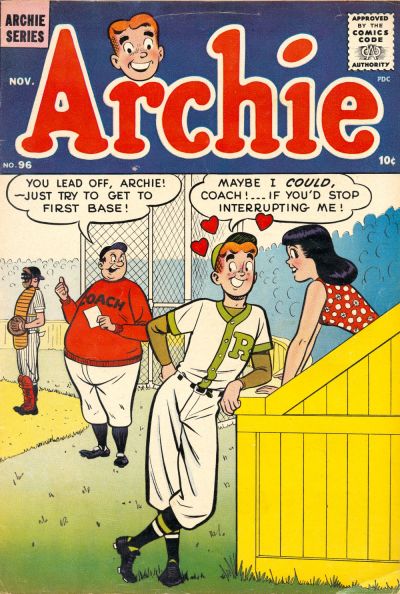 Archie Comics #96, Archie Comic Publications, (November 1958)
Happy Valentine's Day everyone.
The Valentine's Day Spotlight is my favorite post of the year. I always have way too many candidates and I always over think the whole thing, wanting to get it just right.
There are so many comics worthy of the Valentine's Day Spotlight, the good news is I've got material for at least the next 70 years.
I have a nice little stash of Archies, nothing too big, no early keys, just covers that I really enjoy. I must have been looking through the pile recently because all I can remember is seeing this cover again and knowing then and there that I had my 2015 Valentine's pick.
So here it is, the Valentine's Day Undervalued Spotlight pick, Archie Comics #96. I'm not afraid to say that I think this is one of the greatest comic book covers – ever!
I've discussed how important covers can be to comics, they are one of the main drivers of value. This week it's all about the cover.
Could there be a simpler yet more elegant conveyance of young love than the scene that unfolds on the cover of Archie #96? Who's got time for baseball when you're wooing the apple of your eye?
To appreciate the brilliance of this cover we have to put everything in the right context. 1950's America is viewed as a time of innocence, a time when a social moral code was preached through T.V., radio, film and the recent Comics Code Authority approved comics. Underneath it all the social fabric of the country was slowly being stretched to a breaking point that would come a few years later but to the unsuspecting the 1950s were Happy Days.
We also have to realize just how important a role baseball plays in the American national identity. Baseball terms are all over common American vernacular. Hitting it out of the park with your sales pitch, three strikes and you are out for being late for work, getting to second base on your first date and so on.
Yes, the cover to Archie #96 is beautiful, and though its beauty is heightened with context it still remains timeless. One for the ages.
All of our collections should have personal favorites: in my collection I have favorites from every genre and every era. I love owning this book, it honestly brings me more joy than does holding my Batman #232 or my Tales of Suspense #39.
The best story in the book is the 6 page Archie "Dates the Limit". Archie accidentally makes a study date with both Betty and Veronica; let's just say it doesn't end well for Archie. Great stuff.
Again, happy Valentine's Day everyone.
The 44th edition of the Overstreet Comic Book Price Guide shows $58/$114/$170 as the 8.0/9.0/9.2 price splits.
Strengths that make this comic book a good long-term investment are:
Classic cover, one of the best in the Archie run
Embedded in the very collectible Archie Comics run, Archie's under 100 are very collectible