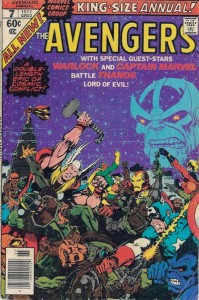 Avengers Annual #7, Marvel Comics, 1977
I was having dinner yesterday with the gang from the Big B comic shop in Hamilton. This is quite the brain trust of comic heads so I took advantage and asked "hey guys, what should my Undervalued Spotlight pick be this week"?
The boys rhymed off a bunch of strong candidates but the unanimous decision ended up being Silver Surfer v3, #44. The 1st appearance of the Infinity Gauntlet.
The guys went on to tell me just how important this Gauntlet thing is, how over the course of the already released Marvel movies we've see 4 of the 6 "gems" or "stones" as they call them these days, needed to put the gauntlet together. The other 2 "gems" will be appearing in upcoming Marvel movies all leading to the Avengers: Infinity War movies due in 2018 and 2019. This is a massive, massive cinematic project and it all revolves around these "gems" that make up the Infinity Gauntlet. It all sounded too good to be true so I said "yeah I'll go with that, thanks guys".
I love digging into stuff like this and the more I dug into the Infinity Gauntlet the more I realized I that I had to go with another book all together. The book I'm going with for this week's Undervalued Spotlight is Avengers Annual #7.
This is an epic of a book. Written and pencilled by Mr. Cosmic himself Jim Starlin Avengers Annual #7 marks the first appearance of all 6 Infinity Gems, these are the gems that make up the Infinity Gauntlet. The story in Avengers Annual #7 famously continues and concludes with the death of Thanos in Marvel Two in One Annual #2 (which by the way is, as of now, actually worth more than the Avengers Annual #7 in the Guide).
I was tempted to pick The Power of Warlock #1 where the first of these Infinity Gems, the Soul Gem was introduced. I still like Warlock #1 for this reason and recommend it as a good pick up but in the end I decided that the complete set of gems, Soul, Power, Space, Reality, Time and Mind together represent an important piece of the Cosmic Marvel universe and the comic they first appear in is worth collecting.
This book is cheap right now: CGC 9.2s are getting Guide while CGC 9.6 copies sell for $180.This is a much better buy than CGC graded copies of Silver Surfer V3 #44 which are currently exploding in value.
Grab this book, grab a Warlock #1 and a Two in One Annual #2 for that matter, heck hunt down some Surfer #44s while you are at it. I think interest in these artifacts will only grow in the coming years.
The 44th edition of the Overstreet Comic Book Price Guide shows $34/$60/$85 as the 8.0/9.0/9.2 price splits.
Strengths that make this comic book a good long-term investment are:
First appearance of all 6 Infinity Gems (Stones)
Cosmic, Jim Starlin scripts and art
Ties into highly collectible Marvel Two in One Annual #2