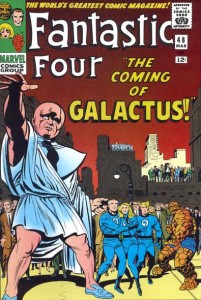 Fantastic Four #48, Marvel Comics, March 1966
Young Mike Huddleston and I have been exchanging a few fun filled emails lately. We've been sending each other mini lists of books we think are overvalued. Mike and I both think this premise would make a great regular column by the way.
So Mike mentions a certain issue of Fantastic Four that he thinks may be overvalued but in passing uses Fantastic Four #48 as an example against which to measure the injustice.
I thought about what Mike said for a while, kicked around the net a bit and finally came to the conclusion than Mike's point could not be ignored.
In a bit of a long winded way I've explained how it came to be that this week's Undervalued Spotlight is none other than that true classic Fantastic Four #48.
The more I look at today's speculative comic book market landscape the more I see value given out to future potential.
(In this Spotlight I'll stay with Fantastic Four and use FF #45 and #52, competitive contemporaries of FF #48., as comparables).
Fantastic Four #45 which features the 1st appearance of the Inhumans has a $2,800 value in the current Guide, pretty good considering last year's Guide had is at $650. Fantastic Four #52, which features the 1st Black Panther, is much the same with a current Guide value of $2000 up from last year's Guide value of $1150. These are huge jumps, way bigger than the Fantastic Four #48's jump to $1800 from last year's $1700.
The market results reinforce the movement in the Guide, FF #45 at 9.2 can get you over $4100 (the last sale a staggering $5800) on the market today according to GPA, this is 400% over what it could get two short years ago. An FF #52 at 9.2 can earn over $4100 a nice 250% increase over a couple of years ago. Our Spotlight pick FF #48 is currently selling for $2,100 at the 9.2 CGC grade or about 30% over its selling point two years ago.
Cripes even a Silver Surfer #1 in CGC 9.2 grade fetches $1,700, almost as much as an FF #48 is getting.
Yes I realize that all this has to be tempered by the fact that there are more #48s on the census, these census numbers are a reflection if it being a big book for a longer period of time. Relative to the other two books I've mentioned its current supply is actually tighter. Prices are suppressed not because of an oversupply but because of a relative lack of interest. Besides, the Guide values are not reflecting census numbers!
How big are the Inhumans going to get? Will the Black Panther be a bigger deal than the Surfer? These questions have yet to be answered though the market seems to be weighing in with its thoughts.
I want to revisit FF #48 and call out a couple of more trump cards (can you have more than one trump card?). This week's Spotlight pick features the first appearance of Galactus. Galactus is a big deal, has always been a big deal at Marvel and has been the most excoriatingly frustrating cosmic character Marvel couldn't pry out of Fox Studio's hands. Is the value of Fantastic Four #48 being suppressed because the characters introduced can't be fully used by Marvel Studios?
Historically speaking it's tough to argue against FF #48, the book launches the Galactus trilogy with issues #49 and #50. This mini arc is considered a high watermark of comics in the 1960s and many call it the best story Jack Kirby and Stan Lee ever collaborated on, this arc has deservedly reached legendary status.
I think more love will come FF #48's way once the market realizes what the book brings and what it could be bought for relative to other options.
45th Overstreet price breaks for this book are $512/$1,156/$1,800 in the 8.0/9.0/9.2 grade splits.
Strengths that make this comic a good investment are:
First appearance Silver Surfer
First appearance Galactus
One of the defining moments in superhero comics