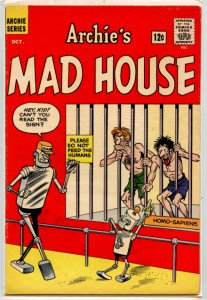 Archie's Madhouse, Archie Publications, October 1962
I was offered a copy of Archie's Madhouse #22 last week by a very sharp comic head. Of course I did a bit of research on the book because a) he was asking way too much money for it and b) I wanted it. As of this writing we still haven't made the deal so I'll keep insisting its way too much money, at least until I can snag it from him at a discount.
The more I read up on the book the more I realized Archie's Madhouse #22 had to be this week's Undervalued Spotlight.
Archie's Madhouse #22 introduced Sabrina the Teen-Age Witch. I read on comics.org that her creation was influenced by the successful 1950 Broadway play "Bell, Book and Candle", which in 1958 became a successful Hollywood movie.
Wherever the idea came from the resulting comic book character sure did stick. Sabrina has enjoyed over 50 years of varying degrees of success. Remember the 1996 TV show? It lasted 7 seasons though the series hasn't aged all that well. I also read that Sony Pictures is working on a reboot for 2017 release.
All the future movie potential aside I'm high on this book because Sabrina belongs in the Archie family and I'm starting to get a good feeling about the whole Archie Empire. I'm seeing through the Archie comic publications a company really shaking things up and pushing forward and with 75 years of rich history Archie and all related characters may be a good bet especially if you are one of the many sensing a superhero fatigue on the horizon.
There is not much sales data as of this post, only 4 sales over the last 90 days with the latest being a CGC 4.0 selling for over 2.5 x Guide. A CGC 7.0 did get over 4 x Guide back in May which really meant it got more like 8 x Guide since the book more than doubled in value over last year's Guide.
Sometimes it's hard to gage these sparse and sporadic results, obviously the chronic lack of supply allowed some eye popping sales numbers but that recent 4.0 sale shows things haven't taken off out of control just yet. The 1962 publishing date will always endure some true scarcity and I see this book having some legs, it's a good long term keep.
The vast majority of the copies out there are still raw and many of these are sitting in old dusty bins of shops and convention dealers much too busy to always be keeping up with what the next big thing is. You can still find this book at close to guide, not on line though!
Sabrina is one of those high ceiling pop culture properties that you just know has her best days ahead of her. The value of her first appearance has much more room and with a little good old fashioned comic hunting I'm sure you'll snag yourself a copy.
45th Overstreet price breaks for this book are $432/$966/$1,500 in the 8.0/9.0/9.2 grade splits.
Strengths that make this comic a good investment are:
First appearance Sabrina the Teen-Age Witch
Archie related character
Future planned projects ensure continued relevance, greater potential