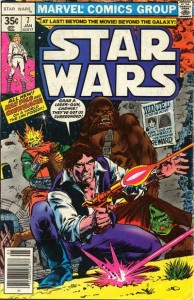 Star Wars #7, Marvel Comics, January 1978
Thanks to Spotlight fan Michael for recommending this book for my consideration.
There is a heck of a lot of spec on Star Wars comics going on right now. Obviously it revolves around the new movie coming out this winter but more fundamental factors are playing in too. This whole corporate menage a trois of Marvel, Star Wars and Disney has people believing anything is possible, nothing is too big!
So where to get in on this Star Wars bandwagon? If you had $20k kicking around you could go the 35 cent variant #1 route or maybe a nice high grade Boba Fett #42? It's hard to play the Star Wars spec game without dishing out some serious coin.
Which segues me nicely into this week's Undervalued Spotlight pick, Star Wars #7.
The story, "New Planet, New Perils!" is written by Roy Thomas and penciled by Howard Chaykin, represents the first story independent of George Lucas' Star Wars saga (Star Wars #1-6 retold the Star Wars Episode 4 film). Star Wars #7 launches a new Han Solo and Chewbacca arc. This story with its fresh content constitutes what is known in the Star Wars circles as "Expanded Universe" content.
Star Wars Expanded Universe is basically all of the officially licensed material of the Star Wars saga, outside of the six feature films, the Clone Wars film and series, and the Rebels series produced by Lucasfilm. The Expanded Universe includes books, comics, video games, toys and lots of other media.
There is a lot of this Expanded Universe stuff around and not all of it is necessarily tied together. Recently, it was announced that all previously released Expanded Universe content would be rebranded as Star Wars Legends. A new company division, Lucasfilm Story Group, would ensure from now on that all new comics, books, games, and other media are non-contradictory to each other and previous works, and valid to the story being told in the films, by rebooting the Expanded Universe.
Looks to me like all this Expanded Universe stuff matters and Disney is attempting to bring order to it for what one would think is some future master plan.
From what I've read this Expanded Universe is generally considered to have begun with the novel Splinter of the Mind's Eye, a spin-off novel written by Alan Dean Foster published in February 1978.
But technically it all really began with our Star Wars #7 published January 1978.
Obviously the novel was hatched first but again this week's Undervalued Spotlight pick represents the 1st public consumption of Star Wars material outside the original stories.
Star Wars #7 is no minor thing though the market has been treating it like one. Pick up a few copies on the cheap though you better hurry, this book is just starting to heat up. I'd recommend hunting down high-grade raw copies at cons and at local comic shops, just make sure they are clean and tight!
45th Overstreet price breaks for this book are $11/$16/$20 in the 8.0/9.0/9.2 grade splits.
Strengths that make this comic a good investment are:
First new Star Wars material outside of movie storyline
Still super cheap