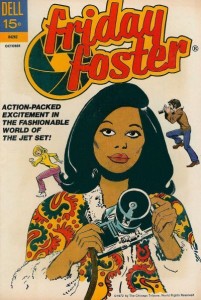 Friday Foster #1, Dell Publishing, October 1972
So I'm pricing up comics for a big con coming up and I unearth this little gem in a long forgotten box. I leafed through it, liked it so much I've decided that this week's Undervalued Spotlight should shine on Friday Foster #1.
Friday Foster started out as a newspaper comic strip, it was syndicated by the Chicago Tribune Syndicate and enjoyed a run from 1970 to 1974. I've read that the Friday Foster strip was the first syndicated strip to feature a female African American as the lead.
In 1972 Dell published the Friday Foster #1 comic book I'm holding in my hand.
The character turned out to be quite popular at the time, even inspiring a Blaxploitation feature film called Friday Foster which starred the legendary Pam Grier.
Friday Foster the character is an ex model turned fashion photographer, jet setter and part time detective. Her exploits in the comic have been beautifully dissected here.
Friday Foster #1 was written by prolific Charlton scribe Joe Gill and was drawn by the equally prolific journeyman artist Jack Sparling (Sparling drew two of my favorites as a kid, Welcome Back Kotter and Six Million Dollar Man – hey, I was a kid).
I'm embarrassed to say that over the years I don't recall ever owning one of these but once I read up on the comic I had to find more. Turns out they are not that easy to come by, eBay only has one available of this post.
The book has a lot of upside and it brings, age, and current scarcity of supply, female lead, and content in other media, obscurity and a cheap guide value for now.
I wonder what a Pam Grier Signature series copy would go for.
45th Overstreet price breaks for this book are $25/$40/$55 in the 8.0/9.0/9.2 grade splits.
Strengths that make this comic a good investment are:
Obscure gem that has cult status potential
Cheap guide value
African American lead, a collecting strain that is growing and the late 60s to early 70s is the most sought after era