Strange Tales #110, Marvel Comics, July 1963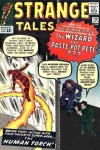 This comic features the first appearance of Doctor Strange and is considered a Marvel key. There are a lot of collectors and investors out there stocking up on Marvel keys and this one is firmly on the buy list.
Doc. Strange happens to be a pretty good character as well and Marvel has been doing some great things with the Doc as of late. Look for this to continue.
It always helps when the character's creator was someone of note and there are not that many names bigger that that of Writer Stan Lee and artist Steve Ditko.
Marvel keys are very expensive comic books and for now Strange Tales #110 is a relative bargain.
The Overstreet Price Guide shows $1097/$2099/$3100 as the splits at the 8.0/9.0/9.2 grades.
Strengths that make this comic book a good long term investment are:
– 1st appearance of a major Marvel character
– Legendary creative team of Stan Lee and Steve Ditko
– Marvel keys are musts for collectors and investors
– Relatively inexpensive when compared to other Marvel keys
– Doc Strange being used well by Marvel today with excellent future prospects
Walter Durajlija is an Overstreet Advisor and Shuster Award winner. He owns Big B Comics in Hamilton, Ontario, Canada